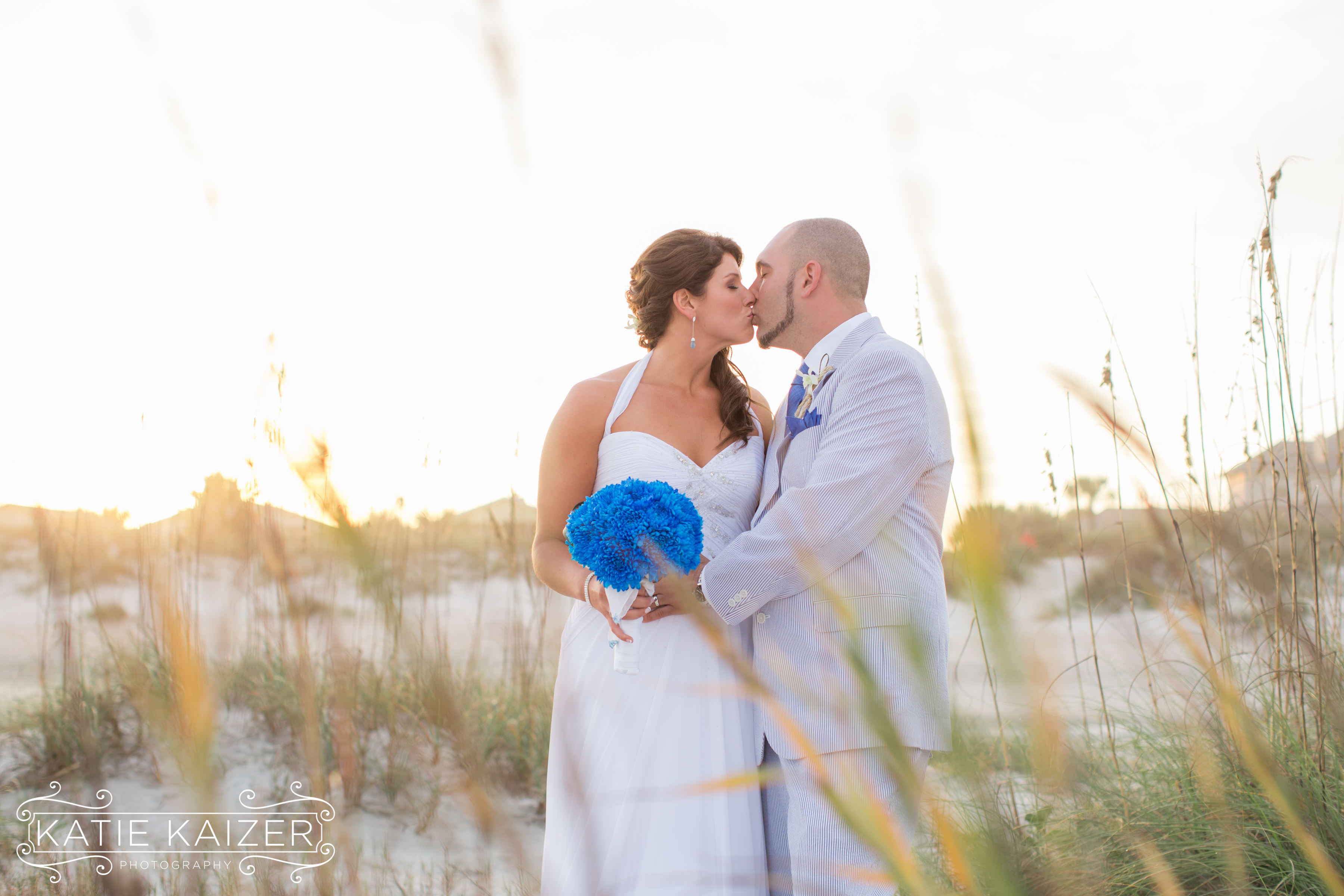 Stacey & Matt Married in St. Augustine, Florida – Love, Sunshine & Fireworks
– Stacey & Matt –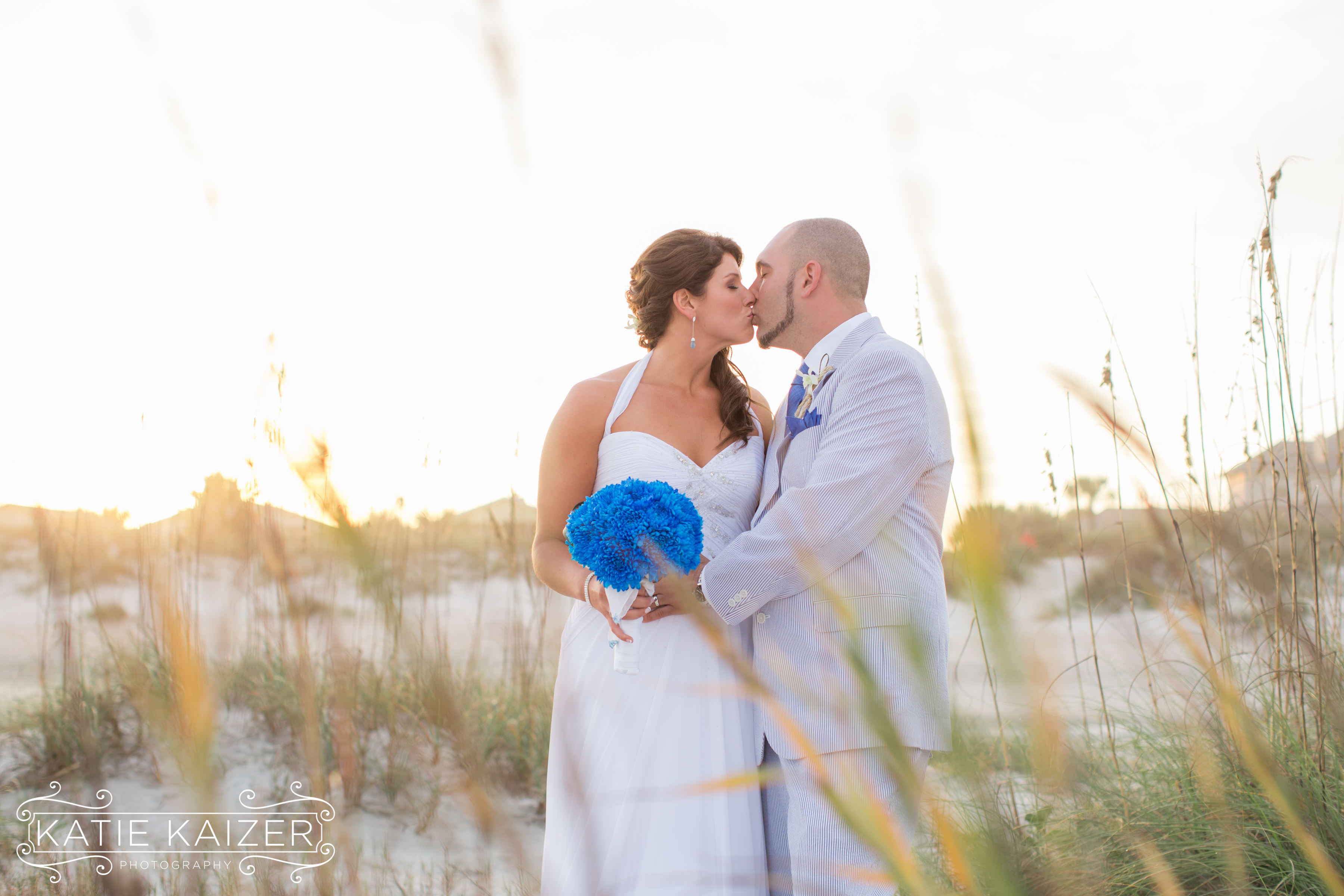 Stacey and Matt were married on Nov. 9th on St. Augustine Beach.  On their wedding day we could all feel the love, it was like watching a real life fairy tail as they exchanged heartfelt vows on the beach. She and Matt adore each other and they have a way of sharing their love with every one around them. They absolutely glow.  Their story starts back on Nantucket….
"Matt and I met on Nantucket where we both moved to for work.  The first time Matt and I actually met was when he had catered an event at Great Harbor Yacht Club before the clubhouse was built.  Apparently I had brought him a beer!  Fast forward a few years later and all the stars had aligned, I was single, he was single and we both found our perfect match.  Matt spent weeks and months courting me with dinners, flowers and mixed tapes (CD's haha).  He won my heart over and we made it official. "
Back when they lived on Nantucket we all became such great friends…I can remember when we started to see them out together and they were always having the best time together!  When they told us they were moving we were all sad to see them go, but so happy to watch their new life together take form in Florida. During their wedding weekend I kept thinking about the amazing parralells between Nantucket and St. Augustine and I asked them more about how they chose the destination for their wedding….
"Matt and I love Nantucket and when we moved down to Florida, we wanted to find a place to get married that had the same small town feel on the beach.  St. Augustine has an amazing history with beautiful buildings, old brick roads and historic charm.  The only thing that makes it even better is minutes from the beach.  Matt and I knew we wanted to do a beach wedding; there is something so special to us about the serenity of the waves and the mystery of the water.  Many of our dates on Nantucket were at the beach, just walking, talking and getting to know each other.  The first thing we did the morning after the wedding was wake up and take a walk on the beach, it was amazing. We chose the House of Sea and Sun because of the great location and friendliness of the staff.  As much as we wanted to do a lot of the wedding on our own, we knew we needed help.  The house was perfect to hold my large family and close enough to hotels for travelers, it was an ideal location. "
Stacey and Matt are so lovely and she wrote more in detail about how they chose some of their vendors and what made their day so special…
"We met Rae, our officiant, at the House of Sea and Sun when we when to check out the location.  We both instantly found a comfort with Rae and knew she would do an amazing job with the ceremony.  The ceremony was by far and above the peak of the day! The flowers were also done by Rae.  She used Blue Cremon for the bridal bouquet along with palm leaves. White lilies, calla lilies, spider mums and palm leaves were used for the maid of honor and flower girl bouquet.  Around the stems of the bridal bouquet was my grandma's while and blue hanky as my something old. My hair & makeup were done by 'Simply Makeup' out of Jacksonville. Mandy did my makeup and Sara Jane did my hair.  They both did an amazing job achieving the perfect beach look."
A few more details from Stacey about this fabulous day….."My shoes are Swarovski Crystal which I Made. Each crystal was individually glued on the shoes to attain the sparkly look!  Also my Dad' initials with anchors on each side were put on the inside of my shoe so I could dance with him all night." Stacey's father passed away when she was younger but she grew up surrounded by love with her mom and her step Dad, Mark, who walked her down the isle. Later https://valdiazep.com Mark also gave a speech that had everyone tearing up as he explained that he was there to speak on behalf of her father and himself.
There were so many beautiful things that happened throughout the day and I believe Stacey's father was shining down on Stacey and Matt as they got married. During the ceremony a gorgeous flock of birds flew over in a perfect V…..I heard several people say under their breath…"That's Joseph flying over and giving his love." It was such a special day.
Thanks to the wonderful world of technology Stacey and Matt were  able to Face Time her sister who was unable to travel because her baby had arrived early and they weren't able to travel. Stacey's brother, Kris, made sure that they were dialed into the wedding day and able to wish Stacey & Matt a happy day!
I met Matt many years ago when he worked as a chef on Nantucket at Slip 14 and when Stacey told us they were doing the food themselves we were all excited…"In choosing where to have the wedding we knew we needed a place that would allow us to do the food.  Both my brothers and Matt are Chefs and did everything from creating the menu to prepping the food the days leading up to the wedding. "
The last big surprise was a fireworks show on the beach…..
"Fireworks were dedicated to my Dad. He used to have a fireworks stand in South Carolina as a side job/hobby.  My brother, Justin, and I picked out the fireworks together for the wedding, it brought back such happy memories of my Dad, he was like a little kid in a candy shop in the big firework warehouses."
After a fabulous night of dancing everyone gathered on the beach as the fireworks went off. From there people lit Chinese Lanterns and then returned to the wedding site for some amazing late night food from the 'Baby's Badass Burgers' an award winning food truck that Stacey and Matt hired to come at the end of the night.
This weekend was full of festivities, emotions and some pretty amazing dance moves. It was an absolute honor to be part of this wedding weekend as Stacey & Matt are such sweet people and good friends of mine. A few days after the wedding Stacey and I were chatting and she said…."It's amazing…I didn't think I could get any happier and I did! Being married to Matt is the best thing ever!"
Enjoy! – Katie K.
From Stacey & Matt….."Katie – we cannot thank you enough for wanting to be part of our special day and traveling down to St. Augustine to do our Photography! The weekend and especially the wedding day was so much more special having a friend and someone we trust do the photography!  Thank You, Thank You, Thank you!!"
https://katiekaizerphotography.com/wp-content/uploads/2013/11/1043.jpg
2400
3600
katiekaizerphoto
https://katiekaizerphotography.com/wp-content/uploads/2021/04/KatieKLogo-PinkGray-e1558936792898-300x100.png
katiekaizerphoto
2013-11-19 19:31:34
2017-06-14 09:30:24
Stacey & Matt Married in St. Augustine, Florida – Love, Sunshine & Fireworks