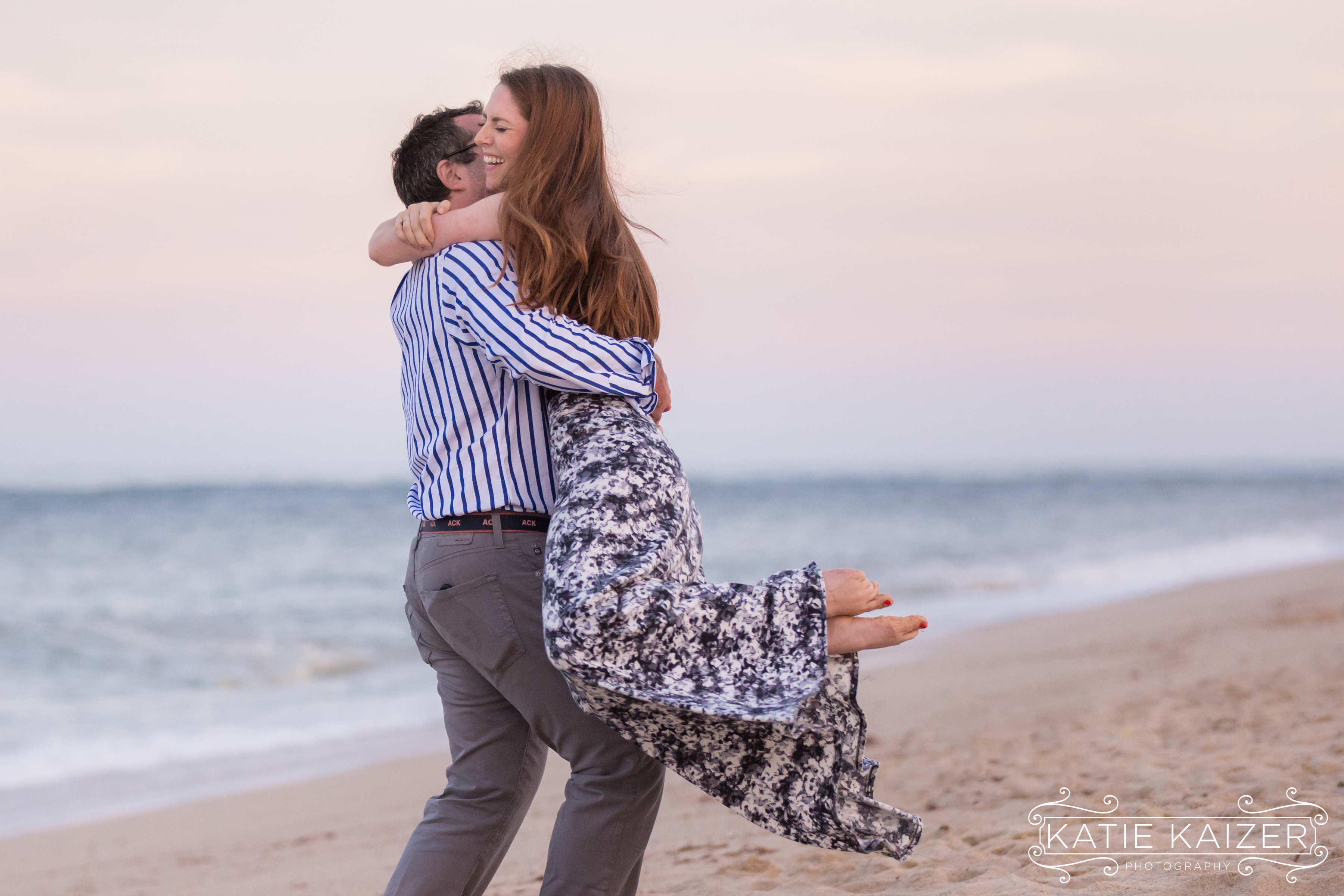 She Said Yes! Surprise Proposal at Sankaty Lighthouse – Congratulations Rob and Sarah!!
July has been so full of love and smiles over here on Nantucket! Between Weddings, Engagement Sessions, Family Portraiture and even Surprise Proposals, there not been a dull moment! We are so thankful to be capturing such special moments! This was such an exciting evening for Rob and Sarah, two of the nicest people we've ever met.
Rob's account of how he and Sarah met is very entertaining, they are such a funny, kind and caring couple.  Rob told us that he isn't really into social media….he has no Facebook account, twitter, instagram etc…..so it was pure luck that his friend decided to put him onto an online dating site….."Back in September of 2011 my good friend Adam created an 'Ok Cupid' account and I had no idea.  After 3 days of receiving numerous strange emails requesting a date or chat sessions I feared that my email account was hacked. Eventually Adam came clean and the joke was up. I was convinced to respond to a few of the messages. After sifting through emails and profiles I came across  "Loves Dogs and Naps". Through our messages I learned that she is edgy, defiant, artsy, opinionated and super sweet. On our first date we had a drink, laughs and lots of smiles. The second date took place 3 days fort night during a monsoon of a storm, where Sarah pulled me into for our first kiss in the rain. My glasses fogged i said 'thank you'."
As I got to talking with Rob and Sarah I found out that his parent's place in Sconset is actually right next door to a very good friend of mine. Small world indeed! It's no secret that we are enthusiastic about Nantucket and it was such a heartfelt response when I asked Rob what it is about the island that they love the most…."I love Nantucket the most because it is that is where Sarah and I first shared our real time alone. I have been visiting Nantucket for years since I was 12 or so and it's always been amazing. The most memorable time on Nantucket was Sarah's first visit to the island with me about 6 months after our first date.  I thought it would great to go to The Sankaty Lighthouse and have pizza, wine and watch the sunset.  It was a magical evening with a perfect girl.  We made a promise to one another, that every time we visit Nantucket we would always set one night aside from family or friends to have our magical moment at the lighthouse.  I couldn't think of a better place for our engagement!"
Rob was in touch with me for a while leading up to the special day and I loved hearing his ideas and coming up with our plan! I had my 2nd shooter and good friend Kathryn Kennedy join me and we pretended to do a 4th of July themed shoot at the lighthouse as our couple arrived and walked past us. Here's a little recap of the proposal told from both Sarah and Rob's perspectives…..
From Sarah….
"About two weeks ago Rob learned that he had done well on a very important exam so I said that we should celebrate while in Nantucket! Three summers ago, the first time I went to Nantucket, we had a romantic evening sharing a pizza and some wine while watching the sunset at the lighthouse, so I suggested that we do it again to celebrate his achievement (little did I know he was plotting to get me there anyway!). My mind goes a mile a minute and on the way to the Lighthouse that night I took a look at the picturesque scenery and recalled what a beautiful night we had the last time we were there and for a second thought to myself , "Rob looks all dressed up, this is so romantic, I wonder if he is going to propose, wow his pants are really tight, I can see his wallet and phone, if he had a ring box I would definitely be able to see it, nope no box"  So then I had no suspicion that there was a proposal coming. It wasn't until we went for our short stroll towards the lighthouse when he asked me to kiss him and the combination of his shaky voice and his hand digging around in his tight pants pocket that I thought to myself…"oh my God he actually IS about to propose!'I couldn't fathom how he was doing this intimate proposal while we were without family or friends and actually in the way of strangers, as we had seen a few photographers working over by the gate, but after I said 'yes' and we kissed, he said "wave to the photographers," and it started to make more sense. I'm so glad that the moment was captured for us to look back on forever!"
From Rob….
"I recently took my USMLE step 2 licensing exam and had just received my score about 1 week prior to our trip to ACK.  After a few days of discussing our upcoming ACK trip Sarah suggested we go to the lighthouse to recreate our favorite Nantucket moment and celebrate my score.  So it was perfect – the date and venue were set.  At about 4pm we prepared for our time alone and I put the ring in my pocket.  We picked up a pizza, wine and headed for the lighthouse. As we arrived at the lighthouse we could see two people photographing each other. We walked over the benches and left our belongings as we decided to walk over the lighthouse.  Now from this point on I had tunnel vision and literally did not see or hear anything around us, I was focused on just Sarah.  Its amazing to me that no matter how much I tried to anticipate the event, the kneeling, the words I wanted to say, nothing went to plan!  I played the scenario out in my head numerous times and I was convinced that I would be relaxed and cool as a cucumber, not the case at all, the complete opposite.  As we walked closer the lighthouse, the more and more nervous I became…..my heart pounding, my voice jittery, and my thoughts racing I turned to Sarah and took her hand and said "I love you and want to spend the rest of my life with you" as I took one knee and asked "will you marry me?"  I kept saying "I love you Sarah" and then as I placed the ring on her finger and I kept asking "did you say yes?" after the about the 5th time asking, Sarah replied "yes you have asked me like 5 times." I stood up embraced my future wife and gave her a giant kiss and then whispered in her ear "say hi to the photographers" and there was that perfect picture of us where sarah is smiling and laughing as she realized I hired a photographer to capture the evening.  It was emotional on levels, exciting, nerve racking, and funny.  Im glad Katie was there to capture one of the most fantastic moments in my life!"
We couldn't be happier for this amazing couple! We had so many laughs with them and I loved the whole evening. We got great photos as she called her family to tell them the big news. Rob and Sarah were all smiles and it was a truly happy emotional evening! After the Lighthouse I took them to many of our favorite Sconset locations for a fun walk about. It was only fitting that we then saw Rob's parents (who had known about the whole plan) as they were walking over to dinner at The Summer House. We loved being able to photograph them congratulating their son and future daughter in law on the iconic Sconset Bridge.
Congratulations once again to Rob and Sarah on their engagement and a beautiful night for a marriage proposal!!
https://katiekaizerphotography.com/wp-content/uploads/2015/07/proposal_040_katiekaizerphotography1.jpg
2400
3600
katiekaizerphoto
https://katiekaizerphotography.com/wp-content/uploads/2021/04/KatieKLogo-PinkGray-e1558936792898-300x100.png
katiekaizerphoto
2015-07-27 14:49:10
2017-06-12 18:26:38
She Said Yes! Surprise Proposal at Sankaty Lighthouse – Congratulations Rob and Sarah!!