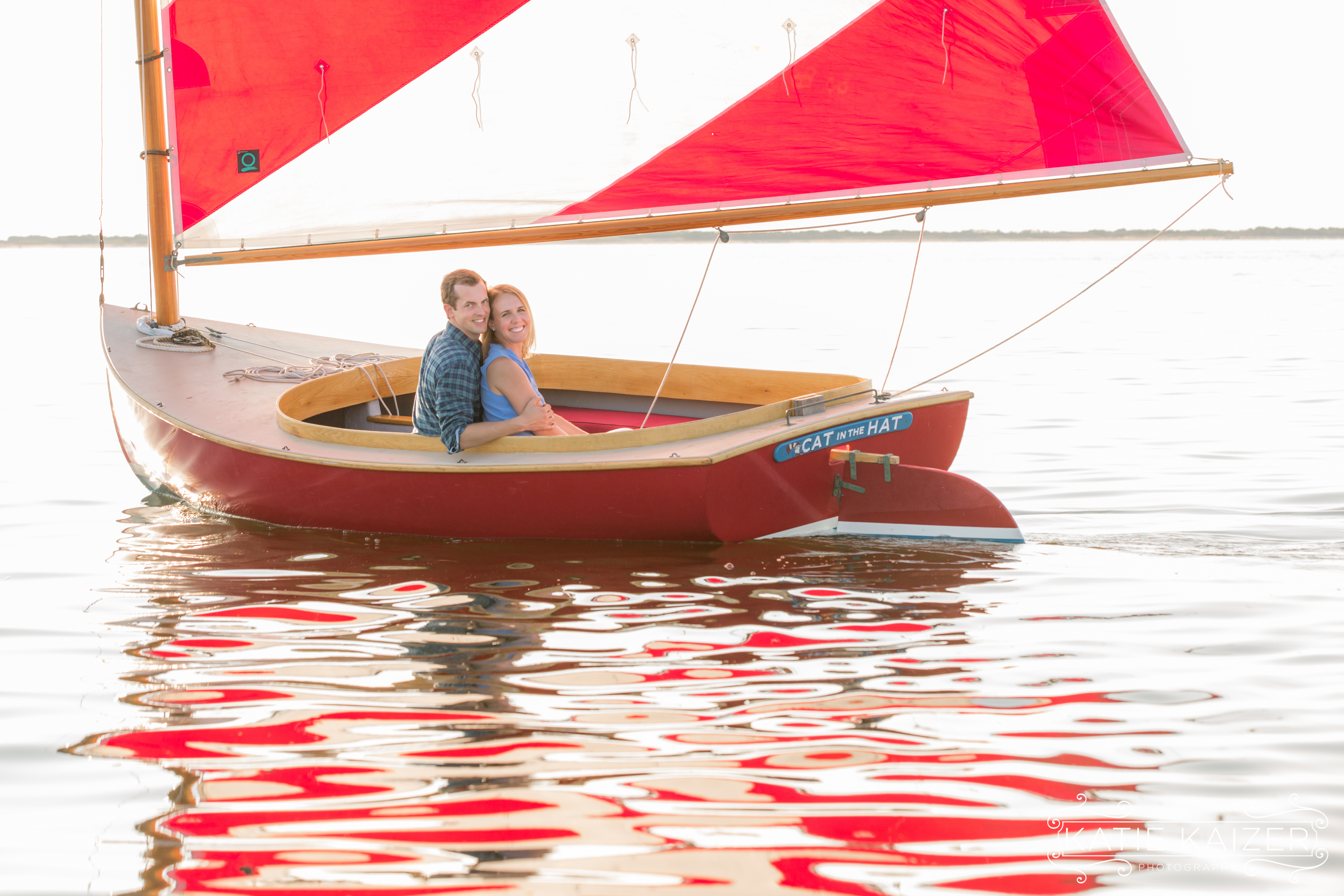 Kate & Dan's Nantucket Engagement Session – Sailing, Sunshine & Steps Beach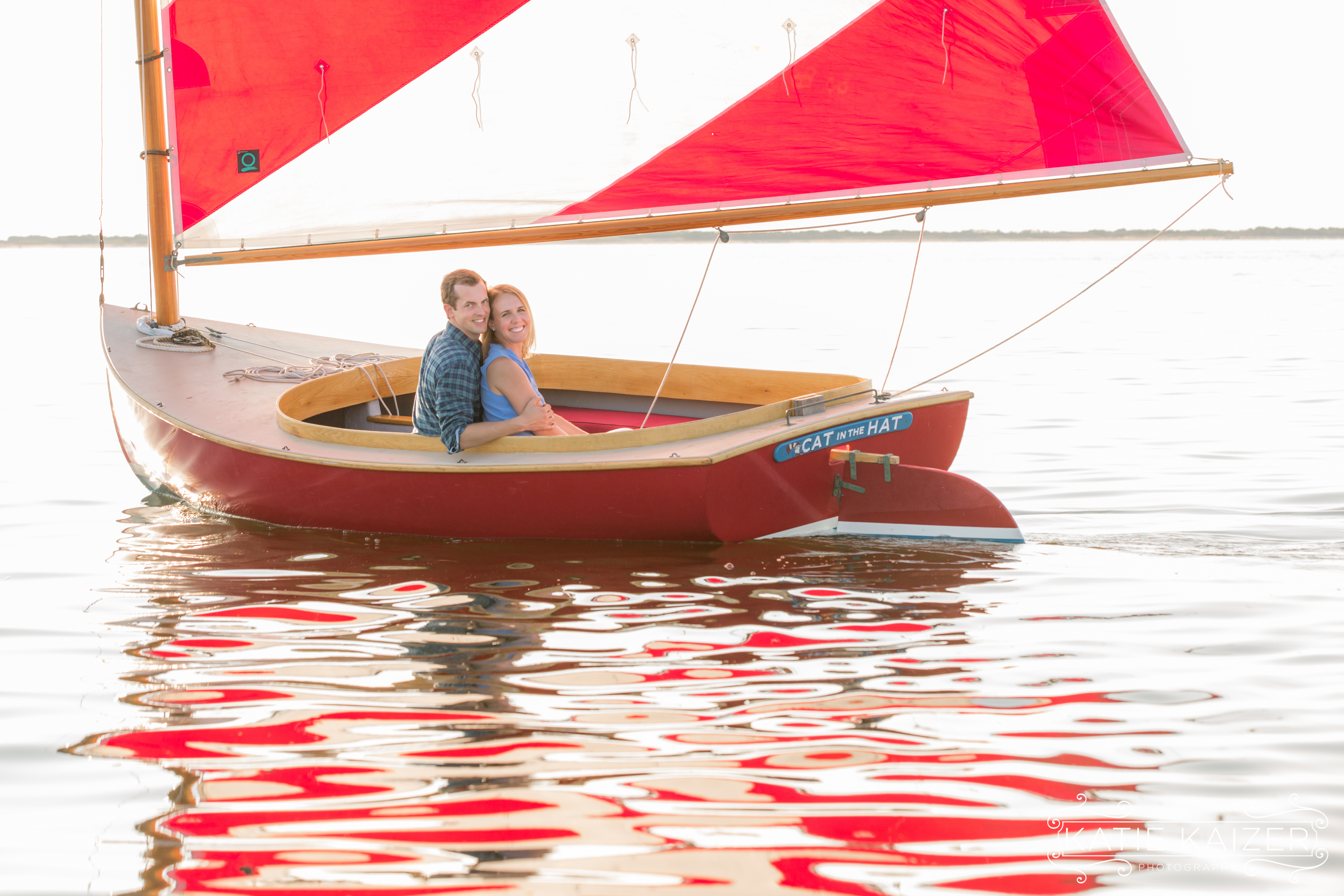 Kate and Dan had a magical Nantucket evening for their Engagement Session! Kate's family has been on Nantucket for generations and she used to teach sailing here on the island! It was a perfect evening to photograph them on one of her family's beautiful boats!
Before I met with Kat and her Mom I had met Kate's father when I was photographing a family portrait session over at the harbor area of Fulling Mill road. The little boy of the session was mesmerized upon seeing this beautiful red and white Beetle Cat Sailboat! Kate's father Ernie was so kind and let us do a few photos on the boat! Then just recently I got the wonderful news that his daughter Kate was engageed and I loved meeting she and her mother to talk about photographing the wedding! I am over joyed to be Kate and Dan's photographer as this couple loves to have fun and has a really special connection to the island. Photographing them out on the sailboat was beautiful and we had a calm day which made for dreamy reflections and we also had just enough breeze for sailing! Kate's Dad Ernie was so kind to cruise me around on his boat to photograph them too! Any day spent on the water is a good one!
I asked Kate what they felt was a memorable part of the evening and I just loved her response… "Without a doubt taking pictures on the Cat and the Hat (our sailboat)! From the light breeze to the gorgeous light, all the elements aligned perfectly, and it was great to take our pictures somewhere so meaningful to us. According to Dan, the most memorable moment was when we tried to stand on the same side of the boat and almost tipped it over."
We are looking forward to their wedding next year on Nantucket! After hearing more of their story I realized just how special this island is to Kate and Dan! Here's a little more about their connection to this beautiful island….
"There is no question that Nantucket is beautiful and full of adventures just waiting to happen. What I love most about Nantucket, though, is that it brings people together in such a special way. For me, Nantucket means family – my grandmother grew up here, my parents were married here, and I've spent every summer running around the island with siblings, cousins, aunts, uncles, and friends. Most of my favorite memories are from times spent on Nantucket, and thankfully Dan loves it here as much as I do so I know we have lots of island magic in our future."
Congratulations once again to Kate and Dan! Looking forward to photographing your wedding next spring!
Enjoy! – Katie K.
https://katiekaizerphotography.com/wp-content/uploads/2016/08/katedan_001_katiekaizerphotography.jpg
2400
3600
katiekaizerphoto
https://katiekaizerphotography.com/wp-content/uploads/2021/04/KatieKLogo-PinkGray-e1558936792898-300x100.png
katiekaizerphoto
2016-08-30 08:02:12
2017-06-12 15:37:31
Kate & Dan's Nantucket Engagement Session – Sailing, Sunshine & Steps Beach