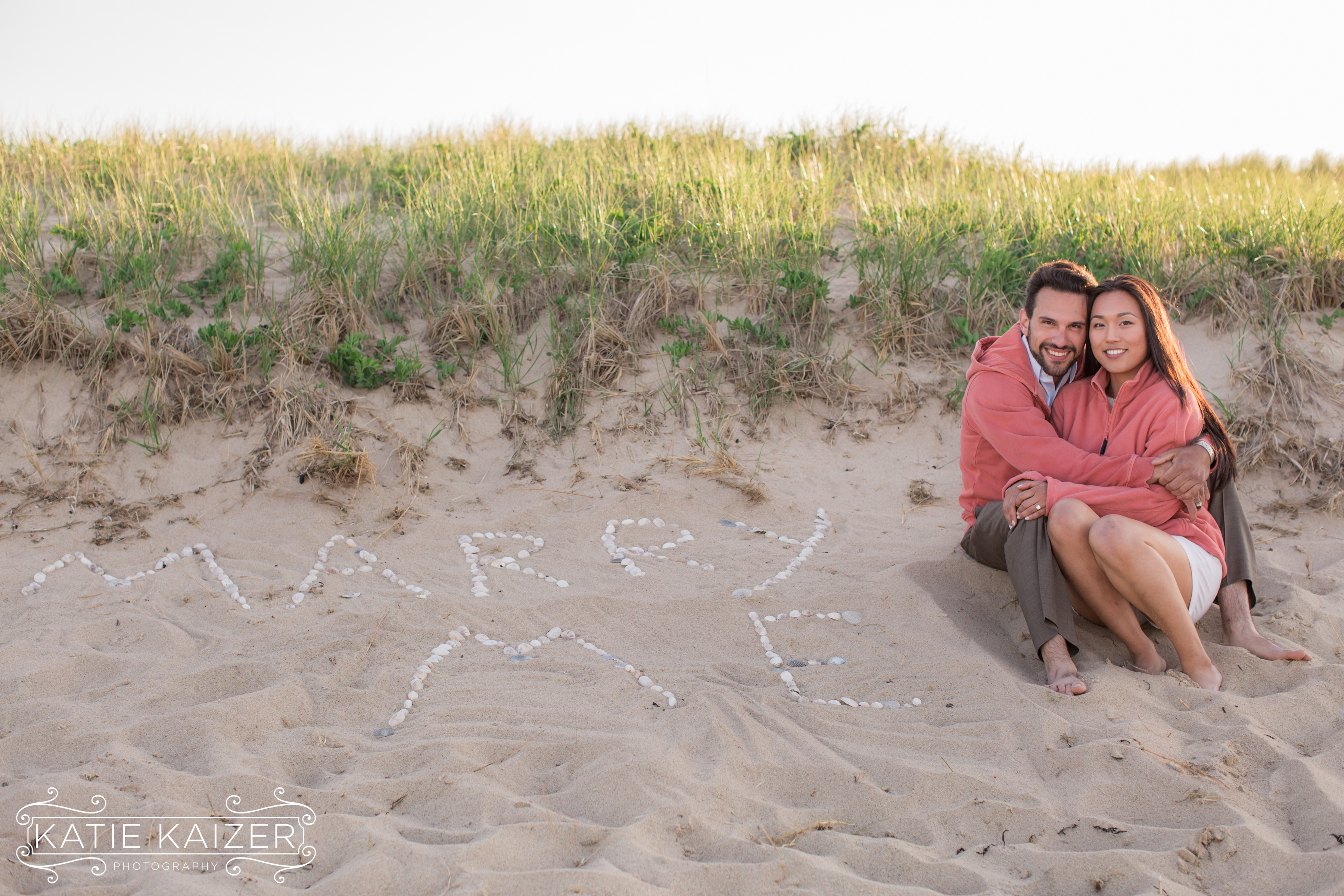 Surprise Marriage Proposal at The Wauwinet – Nantucket Island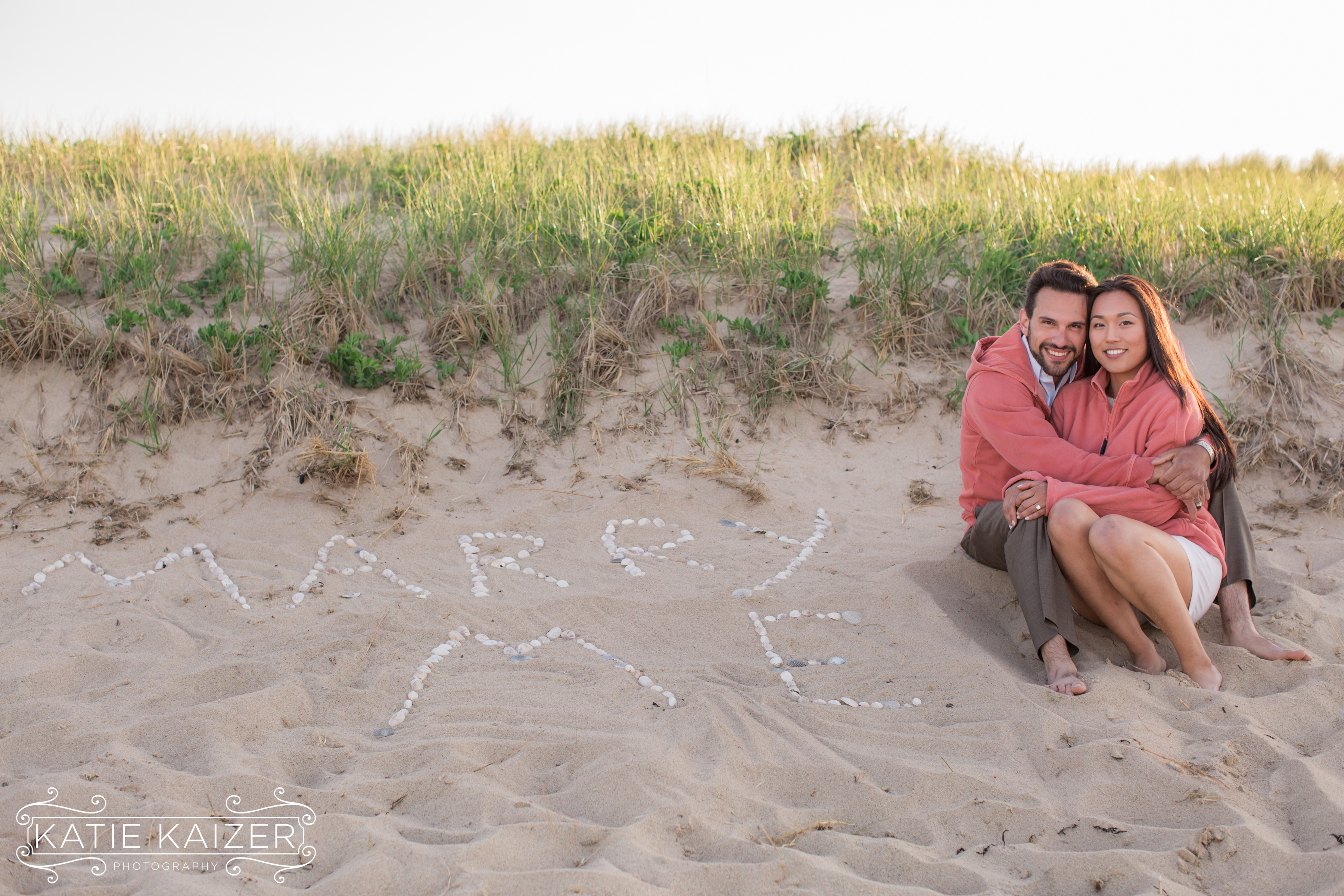 It was an absolute honor to photograph Chase and Jill's proposal last weekend at The Wauwinet! Everyone loves to tell the story of how they got engaged and this sweet couple now has photos to go along with their story! Chase had called about a month ago, so excited about his plan to propose and could I photograph it? From there we made a plan and I was thrilled to capture such a special day for these two!
My second shooter, Kathryn, and I set up shop down the beach with our chairs and pretended to read books so it appeared we were just there enjoying the beach. Very soon after Chase and Jill walked onto the beach he turned to her, dropped onto one knee, and the rest is history! They were all smiles and so sweet. He had written 'Marry Me' in shells early that morning. The whole evening was beautiful as I photographed them around the Wauwinet and waterfront.
A little more of their story from Jill…"Chase and I went to the same school in 7th grade.  He had a crush on me but he was incredibly shy and barely even spoke to me! With the encouragement of a friend Chase decided to write me a little letter and put it in my locker with very specific instructions to "let's not tell anyone about this.  Okay?" This was 7th grade, so, naturally, I told everyone I knew…then I wrote back.  We wrote each other back and forth a handful of times and I actually stopped writing back when I thought he was going to "ask me out"!  Nothing transpired from these letters but they were equally special for both of us – so much that we each still have them!  It was after only a year, Chase transferred out of the school and our lives went separate paths. A while later in Junior year of college, I transferred to The University of Massachusetts, Amherst, a campus of 25,000 students and the school Chase attended.  One October morning, after an 8am Economics class, I happened to recognize Chase at the library and called out his name.  After catching up and me asking what he was doing in the library so early,  we realized we had come from the same 8am class!  You can call it fate because, as a junior transfer student and not at all a morning person, I had no priority or choice but to take the 8am class for my major. On the contrary and unlike any college student I know, Chase intentionally chose the 8am class so he could wake up early and seize the day!  After this day, our friendship was natural and we became the best of friends – even each other's "wingman"!  All our friends saw we were perfect for each other (we're both bird people for goodness sake!), but it was only until second semester of senior year that we realized our deeper affections for each other and started dating."
Their story is so sweet! I absolutely love that they still have the notes from 7th grade! It was great hearing from Chase about why Nantucket was the perfect place for their proposal…."Nantucket has always been a special place for me.  My family used to have a home in Cisco and we would spend every weekend from spring til fall there. I knew it would be the perfect place to propose to Jill!  After a private and romantic boat ride from town to the Wauwinet Inn where we were staying, we took a beautiful walk on the beach to watch the sunset.  It was then that we "stumbled" upon the seashells I arranged early that morning while Jill was asleep. They spelled and I asked Jill to "MARRY ME".  Jill said "Of Course!"
Enjoy! – Katie K.
https://katiekaizerphotography.com/wp-content/uploads/2015/06/chasejill_006_katiekaizerphotography.jpg
2400
3600
katiekaizerphoto
https://katiekaizerphotography.com/wp-content/uploads/2021/04/KatieKLogo-PinkGray-e1558936792898-300x100.png
katiekaizerphoto
2015-06-05 08:21:57
2017-06-12 18:36:49
Surprise Marriage Proposal at The Wauwinet – Nantucket Island