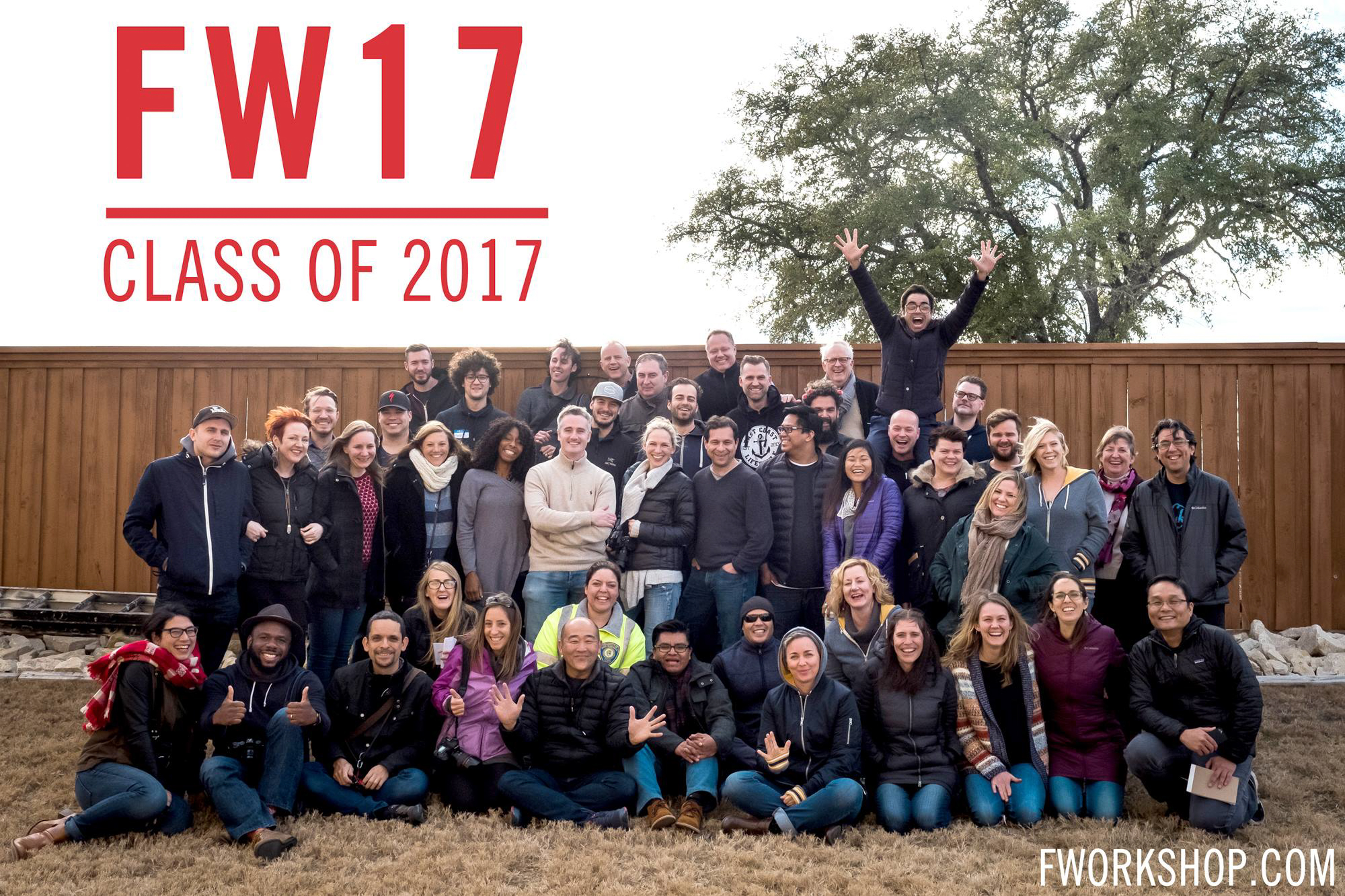 Foundation Workshop 17: Let The Dog Get The Sandwich!
Our amazingly spirited group!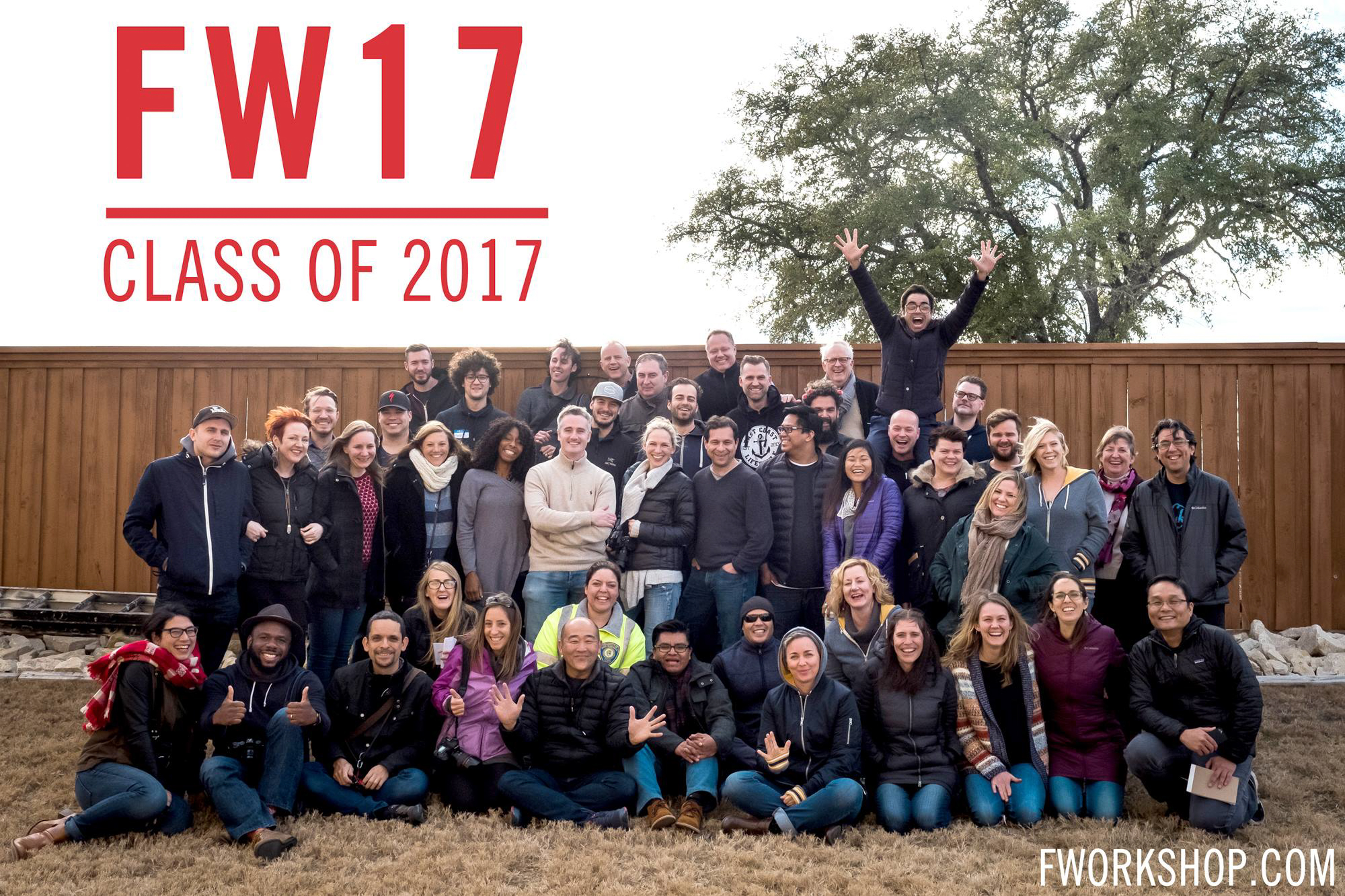 Group Photo by: Joshua D'hondt
What is the Foundation Workshop? This is a workshop led by the world's best documentary wedding photographers and photography teachers. They are leading the industry internationally and pushing all of the boundaries all of the time. This is where you go to get pushed, to grow, to learn and to make life long friendships in the process.
__________________________________________________________________
My biggest lesson at Foundation Workshop ???
LET THE DOG GET THE SANDWICH (and try to make a damn good photo of it!)
Skipping ahead to day 2 of shooting real quick….
SO on my second day in the field photographing my assignment, The Battenfield Family who lives in Texas with their 3 kids, we were at their cousins' house. They have a big friendly dog, horses, chickens, you name it! So when my mentors, Citlalli Rico and Derrick Rice, came to see me they scrolled through the back of my camera to see what I've been up to compared to day one of the assignment. "You are doing what we told you to do!" they said with genuine smiles. I was happy, I had come into the 2nd day with a completely different mindset than the first and it was going pretty well.
They had given me lots to work on after critiquing my first day on the assignment;
Commit to my compositions to be still.
Find clean backgrounds and intentional light.
Capture the moments I was connecting too.
So with that they stuck around to watch me shoot and give me more advice in the field (one of the most helpful parts of this workshop). As the kids came out to the porch with their peanut butter and jelly sandwiches the big goofy lab started to try and steal the little boy's sandwich. The dog was harmless but the boy seemed a little scared (but make no mistake the boy was not in any danger at all).
With that I let my camera hang by my side and got involved, pulled the dog away from the boy and sent him off. My mentors immediately said, 'Katie! LET THE DOG GET THE SANDWICH! Be ready, when something like that is about to happen you need to find your composition, stay put and CAPTURE THE MOMENT. Those are the moments that make up stories of their childhood."
"AH HA!" I said! I understood what they were saying but my instinct was to help the boy instead of make the photo and this is a habit I will learn to adjust. So many things clicked for me at that moment. As the photographer it's not my job to alter the scene or to become part of it, it's to capture what is happening and the moments that tell the story of these kids and their youth in Texas, INCLUDING THE BIG GOOFY DOG STEALING THE SANDWICH! I'll say again the dog was a big love, the kid was not in danger. So there was my mantra for the rest of the day "Let the dog get the sandwich!" It became a story in my mind that I have come back to a few times since Foundation! It is a lesson I will think of on a wedding day and in other parts of my job, to put myself in the right position to capture real life moments, after all….isn't that why I came to this workshop in the first place? I was starting to understand more of what they were teaching me and it was an exciting feeling.
I thought back to my time at photography school from 2009-2011…
I had studied Visual Journalism at the New England School of Photography and I remember many of the lessons my Journalism teacher Glen Cooper had taught us. It had been too long since I was focused on these lessons.  This approach is the reason I initially wanted to go to photography school, to learn how to learn to tell stories with photography. I remembered our assignments and what we had learned throughout our class and during our workshop in Guatemala. Over the years the majority of what I have been shooting is Weddings and Portraiture and it's wonderful but the moments my clients and I always love the most are just that, they are real moments, not the posed photos, the real life moments. I want to bring more of my passion for story telling into my wedding and portrait work. Foundation Workshop exactly was indeed exactly where I needed to be at this point in time and on this wild photographic journey in life.
I was there to learn, practice and listen.  I wasn't here to pose the kids or make beautiful family portraits with everyone looking at the camera, that is something I already know how to do. Capturing real moments and documenting the story, that is what I am continuing to strive towards. That is why I went to Texas……
To let that dog get the sandwich!
_______________________________
A little more about the workshop and photos!
Above Photo by: Derrick Rice (one of my mentors) That's me, day two of photographing my assignment, a wonderful family and their cousins! A long day with many lessons and horses too!
Another lesson for me was to not get distracted by all the pretty horses!
It is no secret that I am a horse person and have been since I was 8. I grew up riding and I still ride and love these beautiful animals so much. So naturally after reading my bio I knew there was no way Foundation would assign me to a rodeo or something horse related because the point is to get out of your comfort zone. When the family told me that the 2nd day we'd be visiting their cousins who's father is a Nationally Renown Natural Horsemanship Trainer and they live ON the horse farm I was over joyed! Horses! But when we arrived I immediately realized I needed to stay focused. When I showed up I didn't run over with my 50mm and make portraits of them the way I had in the past as if they were pretty brides on a wedding day backlit with a soft back ground.  I was there with my 35mm only and my goal was to make interesting photos that told a story. To practice layers. TO PHOTOGRAPH HORSES IN A NEW WAY.  In the end this was a good unexpected hallenge for me.
__________________________________________
Foundation Workshops and our Fearless Leader, Huy Nguygen
Above Photo by: Joshua D'hondt
What originally brought me to Foundation Workshop? (Besides David Murray telling me to go!)
Last year in February 2016 I attended The Inspire Photo Retreat in Newport, Rhode Island. There were a few things that really clicked for me while I was there. I met some of the amazingly talented photographers who have also been involved in The Foundation Workshop. I had first heard of Foundation a few years back and then in Newport, some of the speakers talked about their experience at Foundation and how it impacted their life and photography. What I heard was right in line with what it says on the website for the workshop:
 'This is the workshop your friends have been warning you about.'
I kept hearing…."It's hard work, people cry, but consistently people say it changes their lives and their craft in a positive way."
At Inspire Kirsten Lewis talked about tapping into 'who we really are.' In other words, anyone can learn to operate a camera, but once the technical is mastered, it's actually WHO we are as individuals and how we see the world that makes the difference in our work. On some levels I had known this and thought about it, but during these three days, it all began to make more sense.
Our personality and our life experiences show up in our work, in our photos, in the moments we choose to freeze in time. 
_____________________________________
My Foundation Workshop Experience
So I applied to Foundation Workshop and had many months to get excited, nervous and prepared for a life changing week in Texas! It was everything I hoped for and so much more. Leading up to the workshop Huy the founder of Fearless Photographers and Foundation Workshop gave us a book to read. "Mindset, The New Psychology of Success" by Carol Dweck I would recommend this book to anyone, it is a great guide to life and how to use a growth mindset to tackle challenges in all phases of life. I believe reading this put me in a very good mindset for the workshop and ready for critiques and to learn learn learn!
January 2017
January flew by as I finished reading the book and soon the date was approaching to travel up to Boston for the night and leave early the next morning on a flight to Texas! As usual the Nantucket weather gods had different plans and when the forecast started looking funky for my trip off island I realized I needed to leave a day early so I wouldn't get stuck on Nantucket! It was a good idea as all the boats and flights off island were canceled the next day. So after a flight and 2 nights in Boston I boarded my flight to Texas! Arriving in Glen Rose was pretty great. I instantly met lots of the other attendees and some of the staff and teachers! We had a great day of presentations and lots of valuable information and then we got our teams! I have to say that one of the most incredible parts of Foundation is that they take 20-30 photographers and they really take time to learn about you and where you are in your life, and that is even before you get to Texas. This ensures that you are placed on a team with appropriate mentors for you and with team mates who will ultimately become life long friends of yours. They want everyone to learn and grow from where they are currently, and that is something that various from photographer to photographer but they embrace the various levels of experience seamlessly.  Here are a few photos from Joshua D'hondt who documented our whole week at Foundation! She captured the first moments of when we found out our mentors and needless to say we were EXCITED!
Our Team! Lyndah Wells, Liesbeth Parlevliet, Elihu Castillo and Kevin Heslin!
Mentors: Citlalli Rico & Derrick Rice, Team Assistant Extraordinaire: Tim Forbes
Team Hugs!
Team Tigers Group Photo
 Above three photos by: Joshua D'hondt
Some of the best advice I got leading up to the workshop was from the one and only David Murray, a friend, a mentor and someone you should listen to….
"You will do well. And never be discouraged. You will fail. You must fail. We all fail. So just know that picking yourself up and pushing on after is where the learning and growing begin. It will just be important to remember all this when you are having a hard time of it. Just have faith that what has been said will ring true in the long run!"  – David Murray
I really took David's advice to heart. I read his words over and over and put them in my journal for the trip. I tried not to have too many expectations before the workshop. Some friends who had attended before had told me to go without expectations and I took their advice. I focused on being open to learning and growing leading up to the workshop. That said, I did go expecting it to be challenging and inspiring and these things definitely ended up being true. It wasn't scary like I had initially thought it was going to be. But they have you dig deep into your personal psyche, into your life to find out what is standing between you and the photos you want to make. I realized I wanted to photograph more personal work, I realized I needed to remain still at times when my instincts might have me running all over the place.
The lessons continue to settle in now and will continue to teach us over a lifetime.
I truly wanted to get pushed and to learn. Our mentors were really nice to us and even when encouraging us during critiques they did it in a way that made me want to listen, evolve my process and continue learning. At the end of our first full day, after presentations and after dinner they gave us our assigments. Many of us were assigned to document families and I believe everyone got assignments that pushed them in all the ways they needed. For me this was going to be a great assignment. As I mentioned this is a workshop designed on practicing the photojournalistic approach, no posing, no changing the scene, no directing, just being present and documenting the story as illustrated my first paragraph about the dog and the sandwich!
A few photos by the amazing Joshua D'hondt from our cirque sessions
Our group was all about supporting each other during critiques. We had a lot of wonderful moments together.
Serious times during critique. Taking it all in and listening to my mentors.
Big Thanks to Derrick Rice for this photo of me, laying ground level finding a composition against the huge blue Texas Sky.
Two epic long days of photographing my assignment, long hours of critiques and so many lessons learned. During this photo above I could hear Ben Chrisman's words of advice to shoot "High, Low, Close, Far" as I dove on the ground to get a lower perspective of what was happening in front of me. Some of the main things I worked on throughout the week may seem simple but under the direction of my new mentors, Citlalli and Derrick, I was really digging deper than I had before with my approach.
Shooting for the highlights.
Committing to compositions.
Photographing the moments I feel connected to.
Practicing layering within one photo.
The point of Foundation Workshop is not to walk away with a shiny new portfolio for your instagram account. It's to work hard, take risks and practice. The workshop asks us to only show 2 photos publicly on social media as they have similar assignments each year and we don't want to show too much of what we are up to in Texas! After all, the assignments are part of the allure and mystery as you head into the workshop.  I will, however, make a slide show to share with family and friends and whomever wants to see it (as long as they are not a prospective student of FW!)
Here are two photos that mean a lot to me. Photos where I was pushing outside of my comfort zone both mentally and physically and trying new things.
In this first photo it all started with that dog again. The dog was chasing kids around, the kids were playing, jumping off of a ladder to a rope swing tied to a tree. So much happening! Shadows, mixed light, action. I felt really interested in this scene. I started ground level, that was not it. I climbed up the ladder to get a higher perspective and that was not the shot I wanted. ALAS I glanced over at the tree and saw the tiny boards nailed into the tree making a little ladder (which really only looked suitable for tiny kids) and I thought, I HAVE TO CLIMB THAT TREE. I hadn't climbed a tree since I was the age of these kids. "Ok guys I'm coming up!" I yelled to the few kids that were up on the tree already.  I found a spot where I felt fairly safe and started looking through  my camera to find a composition and then waited. I waited until all of my subjects were lit up in between the shadows and found a moment I connected to. To me this is a photo that represents change and seeing in a new way. It represents being still, quiet and patient something I am always working on.
Again we see the dog! Here he was running around stealing hay nets from the horse paddocks and rolling around on the ground so playful. I hit the ground next to him fully expecting to get a paw to the face and a mouth full of hay but that didn't happen. He kept playing and paid no attention to me. As the girl rounded her corner on the horse I was happy to make a photo that showed the scene, using layers and showing a glimpse into their outdoor life.  Of course this photo could be better. If the horse was a unicorn and  jumping over a rainbow that would be awesome, BUT, this photo means a lot to me, it's a starting point. It's motivating.
SO NOW WHAT?
My goal moving forward is to continue to practice and bring more of this story telling element into my family portraits and wedding days. I don't want to continue making the same images over and over, that wouldn't fill my soul the way it does when we make new and unique photos at every wedding that can tell the story of the day.
I will to strive in the direction of story telling and evolve my craft. I will remain teachable throughout life, something we should all try and do. I left Foundation understanding why I want to make photos that convey a feeling, and translate a moment. I left feeling more in tune with what I want to shoot. All of this is a LIFETIME PRACTICE but I feel that ultimately through this journey I can offer something unique and beautiful to my clients.  I am really enjoying this stage of my career and continuing to learn from some of the most internationally renown and hard working photographers out there. To them I say THANK YOU! 
Foundation Workshop ended and we all went home and kept in touch. Of course I kept in touch with my group a lot since I love over communicating :) I miss them tons, I am reminded every day to keep shooting. In fact I just went to Inspire Photo Retreats again and was thankful to have David Murray critique my work. I was also lucky to have Huy as a mentor and talk more with him about Foundation and the work that came out of that experience. He gave great advice to always seek out honest feedback about your photos and really in all aspects of life. Great advice! He stressed how important this is in order to grow and I have been really thankful to find some  honest colleagues and mentors who are giving me their critiques.
Now it's time to keep shooting, to practice and keep photographing the things I love.
So there I was in Newport a few days before Inspire with my boyfriend for the weekend. We drove past Easton's Beach and saw a Polo Match on the beach!  I found out the Match was part of Newport Winter Festival 2017! As I mentioned since Foundation Workshops in Texas I have been carrying my camera around a lot more with my 35mm and after we parked I practically sprinted over to see the action. I was thinking about what I learned in Texas, I got close and waited for the moments I felt connected to! These are two of the photos I made during the Polo match:
During the polo preparation I loved seeing all of the chaos. Spectators wandering around, players tacking up, dogs playing near the horses and beautiful light.
The match was finishing and I loved how the players rode around high fiving all of the spectators! I got low and moved across 'the line' and figured if I got kicked by a horse it wouldn't be the first time and hopefully it would allow me the vantage point I wanted.
Next stop Florida!
Some of the best advice I've ever gotten is to shoot what you love. I am leaving tomorrow for Florida to spend a week documenting the healing power of horses and the activities at The Marion Therapeutic Riding Association. I am going to immerse myself into this project continue to practice, practice, practice.
Maybe If I pray enough to the Photo Gods I'll even capture a dog stealing a sandwich!
Thanks you for reading about my experience at Foundation Workshop!  If you are interested in going to this workshop then GO!! Start saving up, apply, mark your calendar and set the goal. It's worth it, I am continuing to realize how much that week in Texas changed my life! Big heartfelt thanks to The Battenfield Family for welcoming me into your life to document your story! Thanks again to Huy, his staff, the mentors, the whole community. We sure had fun and I'm thankful for all the friendships that will surely last a lifetime!
Team Tigers –  I love you guys! Thanks for this photo Derrick Rice!
https://katiekaizerphotography.com/wp-content/uploads/2017/03/fwpost_001_katiekaizerphotography.jpg
2399
3600
katiekaizerphoto
https://katiekaizerphotography.com/wp-content/uploads/2021/04/KatieKLogo-PinkGray-e1558936792898-300x100.png
katiekaizerphoto
2017-03-09 14:28:23
2017-12-21 05:18:21
Foundation Workshop 17: Let The Dog Get The Sandwich!