Elizabeth and Sheila's Holiday Wedding at the State Room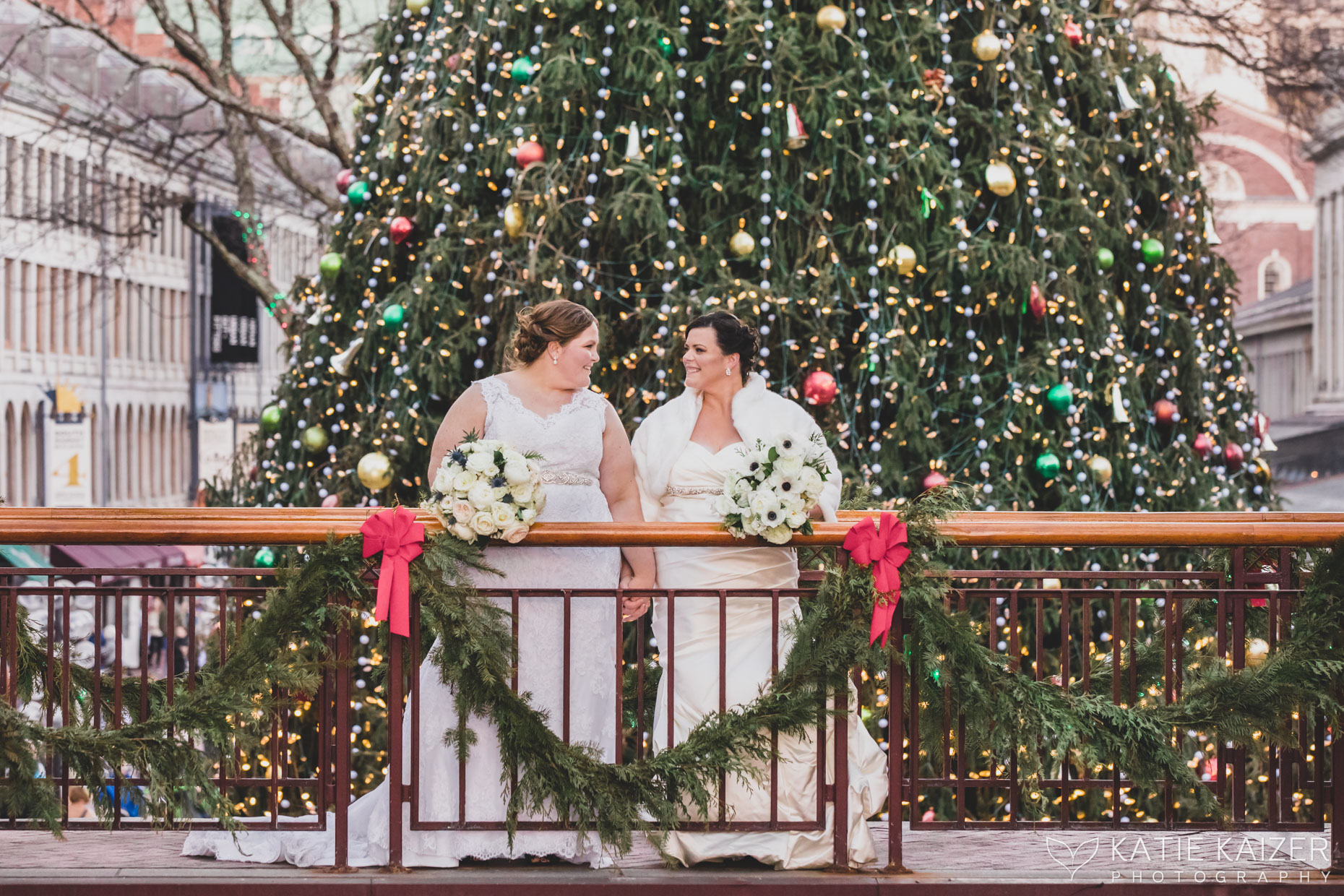 Elizabeth and Sheila were married right after Christmas on December 29th 2018. They had a gorgeous, warm winter weekend for their festivities and the city of Boston was absolutely beautiful all dressed up in holiday decor.
When this lovely couple first reached out they were actually thinking about having an October wedding, the same date I was planning to be married! We laughed and said 'great minds think alike' but after such a long wonderful conversation I thought it was too bad that I wouldn't be able to shoot their wedding as we had hit it off instantly! Low and behold some time later they called with great news, they had decided to do a holiday wedding instead! I was overjoyed to travel to Boston for their celebration! Elizabeth and Sheila spend lots of time on Nantucket and we had a great evening on the island for their engagement session last summer.  Since then we were in touch a lot about the wedding plans and I loved visiting them a few weeks before the big day to stroll around the city and visit their beautiful venue! These two have  a love for life and each other that is evident the moment you meet them.
Elizabeth and Sheila chose to get married at the State Room, a Longwood Venue, and an absolutely stunning location that over looks the Boston city skyline. The couple were married at sunset and the skies turned many shades of purple as night fell over the city.  Their dear friend Jacquelyn Landgraf was the officiant and every part of the ceremony was heartfelt and truly personal.
Here are a few special words from the brides…"We got married in the State Room in Boston. We have always loved the simplicity of the space and the gorgeous view of Boston and the Harbor from its floor to ceiling windows. Throughout the whole day we felt completely surrounded by the love of our family and friends. Our favorite moment however, was the ring warming ceremony during our wedding. We asked each member of our immediate family to hold our rings for a few seconds and warm them with their love and a blessing for our marriage. During this, our nephew Shane played The Coulin on his fiddle. This song is very special as it was a favorite of Sheila's grandfather who was an All-Ireland fiddler.  The whole ceremony was carried out as the sun set in the Boston sky. It was truly perfect!"
As the night progressed the band played all of their favorite songs and we also had a very special performance by many of Sheila's Family members who traveled over from Ireland. They sang traditional folks songs which was a treat for everyone. Clockwork New England closed out the night with another special surprise….Elizabeth got on the microphone to sing 'Living on a Prayer' dedicated to her new wife! The entire weekend we felt like part of the family and we can't thank them enough! We look forward to seeing everyone and their cute dogs again soon!
Special Thanks to Cary Tozer for coming back to New England from his world travels to shoot this wedding with me!
Venue:  State Room a Longwood Venue, Flowers: Flowers by Justine, Catering and Wedding Cake: State Room a Longwood Venue, Hair & Makeup: Charlotte Phinney & Company, Officiant: Jacquelyn Landgraf, Photographer: Katie Kaizer Photography, Band: Clockwork New England, String Music: Golden Scroll Soloists, Traditional Irish Music: Sheila's Family Members; Kara and Jerry Eadie Band, Calligraphy for Invites and Place Cards: 1010Studios Homemade by Margaux, Rings: Amoroso Jewelers, Late Night Food: Regina's Pizzeria and  Mike's Pastry, Transportation: Rockstar Limo, Videographer : Well Spun Weddings,  Dog Assistance: Bark around Boston, Rehearsal Dinner: Del Frisco's
Enjoy – Katie K.
https://katiekaizerphotography.com/wp-content/uploads/2019/01/ElizabethSheila_055_KatieKaizerPhotography.jpg
1240
1860
katiekaizerphoto
https://katiekaizerphotography.com/wp-content/uploads/2021/04/KatieKLogo-PinkGray-e1558936792898-300x100.png
katiekaizerphoto
2019-01-10 13:36:59
2019-01-11 00:10:01
Elizabeth and Sheila's Holiday Wedding at the State Room