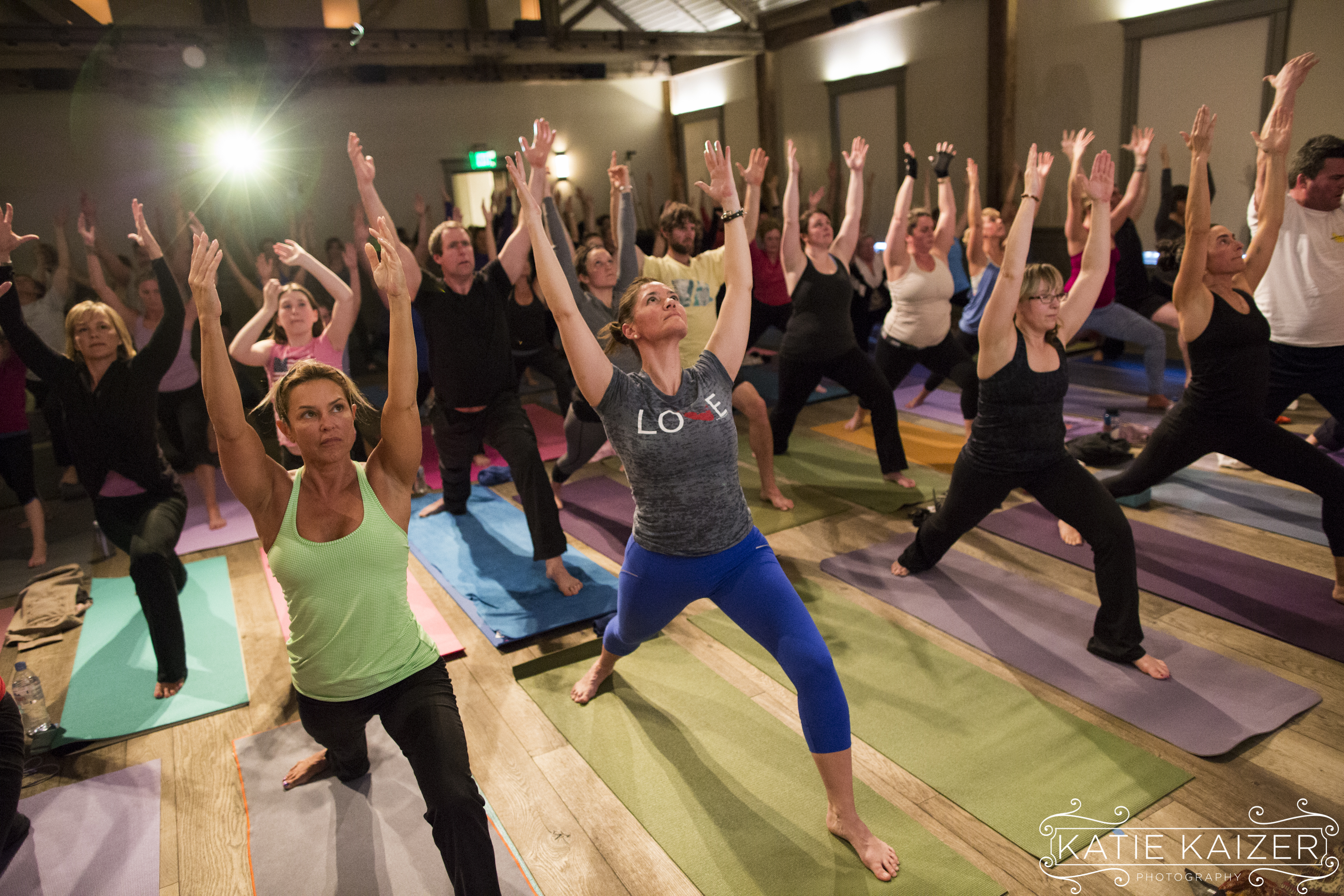 Electric Love: A Charity Yoga, Music and Art Experience on Nantucket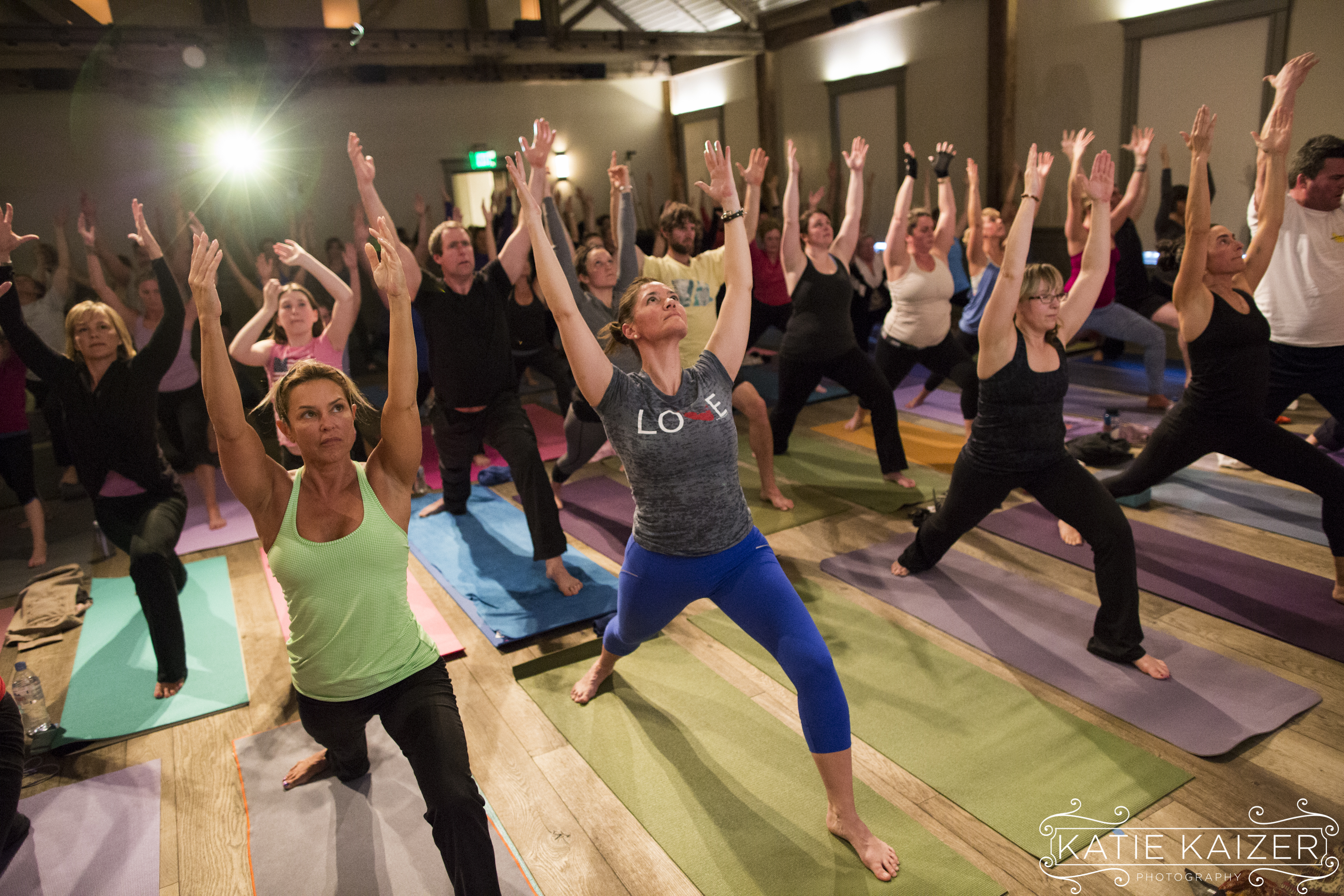 The Electric Flow series with Caitlin Marcoux Vinyasa Flow Yoga and DJ Peter Ahern continued last Thursday evening on Nantucket.  This time the team paired up with Brooklyn based artist Craig Anthony Miller and special guest Clay Twombly to create a visually and aurally inspiring space in which to practice the healing arts of yoga.
At last year's Electric Flow Event I was honored to photograph our amazing community as they united in support for Caitlin Marcoux's journey…she writes…."When I was diagnosed with breast cancer last March, no one was sure what it was going to take to save my life. My cancer was aggressive, it was invasive, and it had proliferated into three quarters of my right breast and a neighboring lymph node. While my team of doctors threw ever kind of therapy at my 3cm tumor, I threw myself into any and ever kind of complimentary therapy I could find: a modified diet, regular yoga, seated mediation, weekly acupuncture, and ongoing chiropractic care. I sought out the company of my closest friends and spent many quiet nights at home with my partner and son. For a little while, it was terrifying. As it turned out, it took everything to help me persevere: chemotherapy, surgery, targeted therapy, hormonal therapy, individual therapy, group therapy and the support of my entire community. And when things got really tough and I found myself literally and figuratively falling apart, I sought refuge in the resources available at Palliative & Supportive Care of Nantucket. Spending time with other cancer survivors during the PASCON support groups was inspiring and empowering, and knowing I was not alone in my turmoil went a long way to making me more comfortable. That's why, when Pete Ahern and I decided to put on a fourth Electric Flow Yoga event, I chose PASCON as the charity I wanted to support. Not only did I want to celebrate my gratitude for our community through art and music and yoga, but I specifically wanted to give back to the donation-funded organization that had given me so much support. Yoga, music and art all share the same power to heal because they are hard wired to penetrate and open our hearts. My wish for the people who attended Electric Love was that they could feel that healing as deeply as I have. I know that the funds we raised for PASCON will help nurture others when the light seems dim and hope feels far away. I feel deeply privileged to still be alive. Life is short, we should live it in service to one another."
90 Yogis took part in a special 2 hour yoga class and as someone who loves yoga, this community and photography, this couldn't have been a more inspiring experience. Capturing the evening was wonderful, from the hello hugs, the setting up, the opening meditation and of course the yoga practice. I know there will be more of these evenings in the future and I would encourage anyone to come and be part of this moving experience.  I am very thankful to be part of this creative team once again.
CAM's Electric Love painting will be available for auction shortly and that he is donating the profits from its sale to PASCON too. Check in at Caitlin's Website for more info.
From Clay Twombly  "Thanks to everyone who came out to support PASCON! They are one of many assets to our community and I'm so grateful for all they do. Thanks to Caitlin, Pete, Craig and the support crews behind the scenes who made it such a success!"
Sponsors: Caitlin Marcoux, Verde Nantucket Green Build, Craig Anthony Miller, The Dreamland Theatre, Isle de Flore, Katie Kaizer Photography, Clay Twombly, Pete Ahern.
Enjoy! – Katie K.
https://katiekaizerphotography.com/wp-content/uploads/2014/03/electricloveyoga_037_katiekaizerphotography.jpg
2400
3600
katiekaizerphoto
https://katiekaizerphotography.com/wp-content/uploads/2021/04/KatieKLogo-PinkGray-e1558936792898-300x100.png
katiekaizerphoto
2014-03-29 16:13:42
2017-06-13 14:03:00
Electric Love: A Charity Yoga, Music and Art Experience on Nantucket