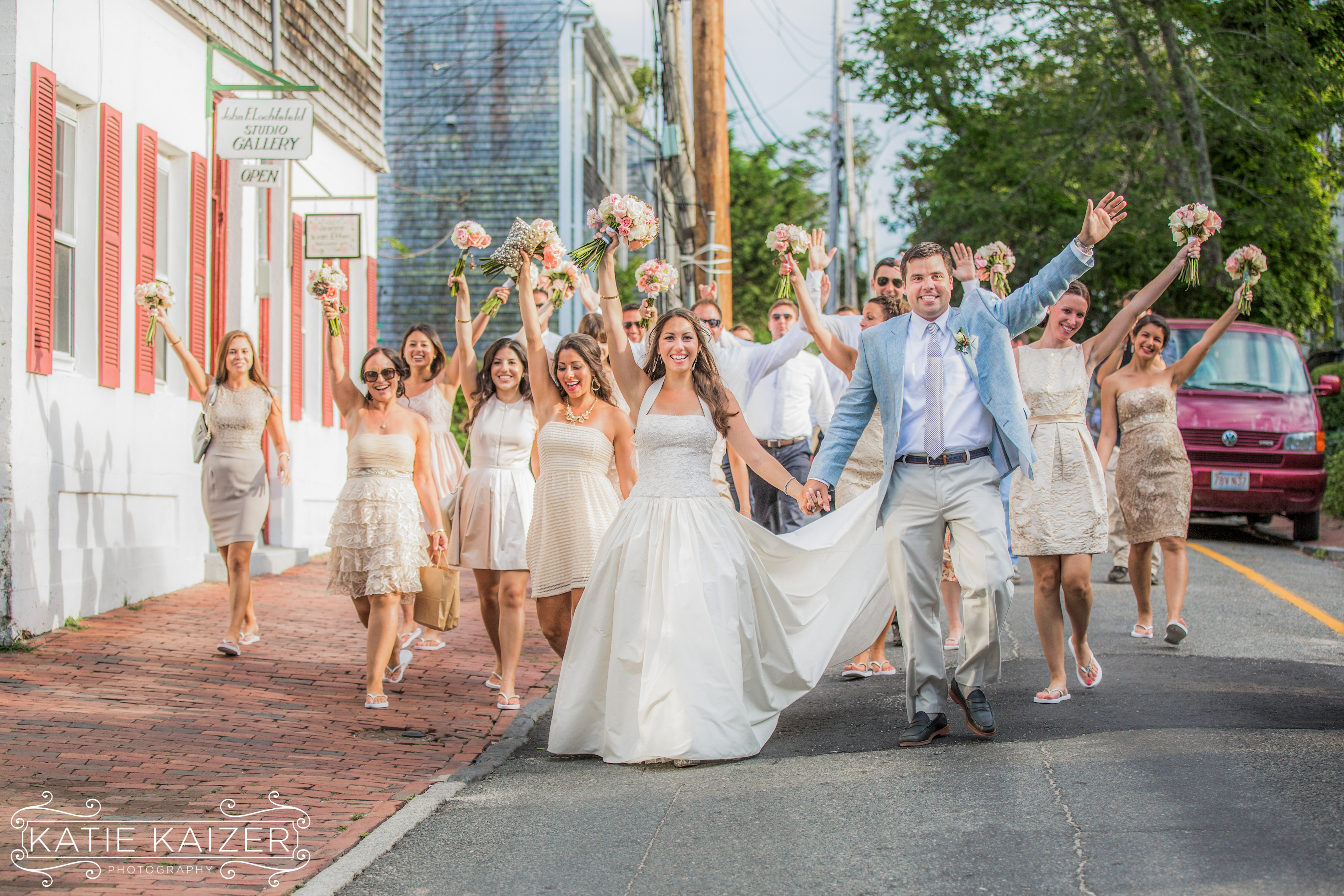 Allyson & Bryan Married on Nantucket – A Wedding Parade in August
– Allyson & Bryan –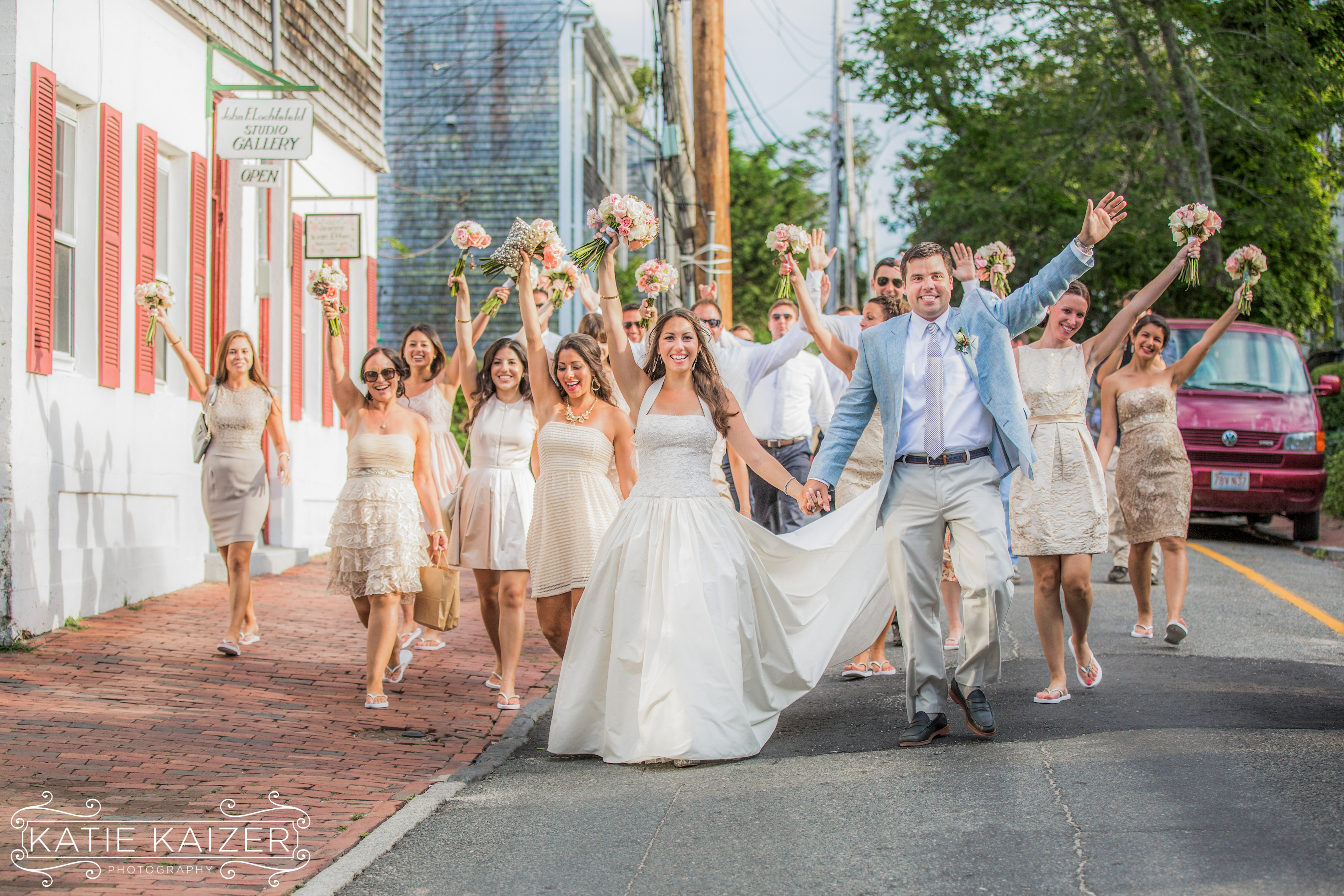 Allyson & Bryan were married at The Quaker Meeting House on August 10th. If you were in town that day or passing through on your way to the Boston Pops at Jetties you probably saw this amazing wedding party around town. When I originally met with them they told me about their idea for the wedding parade. After being married at The Quaker Meeting House they wanted to parade through town, down Main St. and over to the Whaling Museum for their reception. Together with Billy Voss we made a master plan for the parade and I also secured a ladder so I could get a big group shot at the infamous compass at the bottom of Main St. Billy walked with them like a modern day Pied Piper and played acoustic guitar as they paraded through the streets of Nantucket just moments after being married.  From start to finish this wedding was so much FUN. They had a big wedding party and we had a great time doing photos before the ceremony on Fair St. and other little streets of Nantucket. The wedding party also made the walk down to the top of Main St. before the ceremony and I loved the way they took over the town. The girls changed from flip flops to heels and we did a bunch of photos on the bank stairs as everyone stopped to watch and applaud this fantastic group. In addition to all the festivities around town I took Allyson & Bryan to Brant Point Lighthouse for a few photos before all everything got started and they shared a sweet first look on Fair St.
I asked Allyson how they met…."Bryan and my brother, David, met when they were freshmen in college at University of Maryland, so I've known Bryan for years. I remember going to visit my brother at College Park and thinking Bryan was funny and cute, but I was his best friend's little sister, so clearly off limits. It wasn't until New Years of 2011 that things changed. That night, he kissed me at midnight, and it was all sort of history from there. He moved from Arlington, Virginia to Hoboken, where I live, a year later. Soon after he moved in, he came with my family on vacation to Nantucket."
I asked Allyson why Nantucket is special to them and how they chose their historical Nantucket Venues for the festivities…."I first came to Nantucket when I was about 10, and it worked its magic on me. I came back with my mom and grandmother a few years after, and then visited throughout college (I went to BU) with a friend whose family vacationed on the island. I fell in love with the history and beauty of the island more and more every time I returned. Bryan soon joined us on family vacations to the island and he too fell in love with it.  We chose the Whaling Museum because it embodies the history of the island–and as I am a history teacher, it seemed fitting. It's also just a beautiful and unique venue, and different from anything I had ever seen done. By getting married at the Quaker Meeting House, a quietly beautiful setting, we were able to incorporate a wedding party parade through downtown Nantucket, which really set a fun and celebratory tone, and became a highlight of the day, especially with the addition of Billy Voss as troubadour. We loved that the rooftop terrace of the Whaling Museum gave a panoramic view of the town and harbor during our cocktail hour. I wanted our guests, who had traveled from near and far, to get as much from their experience as possible and understand why I loved this place so much. "
Allyson & Bryan could not be happier and they have an amazing group of family and friends. I loved their energy and the way they celebrated each other and their guests. As they made their way down Main St. people continued to applaud and when we reached the whaling museum everyone was treated to a gorgeous cocktail hour on the roof top terrace. Kimberly Reed and her team at A Taste of Nantucket did an outstanding job with their unique menu for the evening. Billy Voss kept the dancing going per usual and everyone danced into the night. I look forward to seeing Allyson and Bryan back on Nantucket soon!
Ceremony: The Quaker Meeting House, Officiant: Catherine Stover, Flowers: Jean Cawley, Event Design & DJ: Billy Voss of Perfect Nantucket Events, Reception: Whaling Museum, Catering: A Taste of Nantucket, Photographer: Katie Kaizer Photography
Enjoy! – Katie K.
https://katiekaizerphotography.com/wp-content/uploads/2013/09/allysonbryan_081_katiekaizerphotography1.jpg
2400
3600
katiekaizerphoto
https://katiekaizerphotography.com/wp-content/uploads/2021/04/KatieKLogo-PinkGray-e1558936792898-300x100.png
katiekaizerphoto
2013-09-05 13:11:47
2017-06-13 21:20:56
Allyson & Bryan Married on Nantucket – A Wedding Parade in August