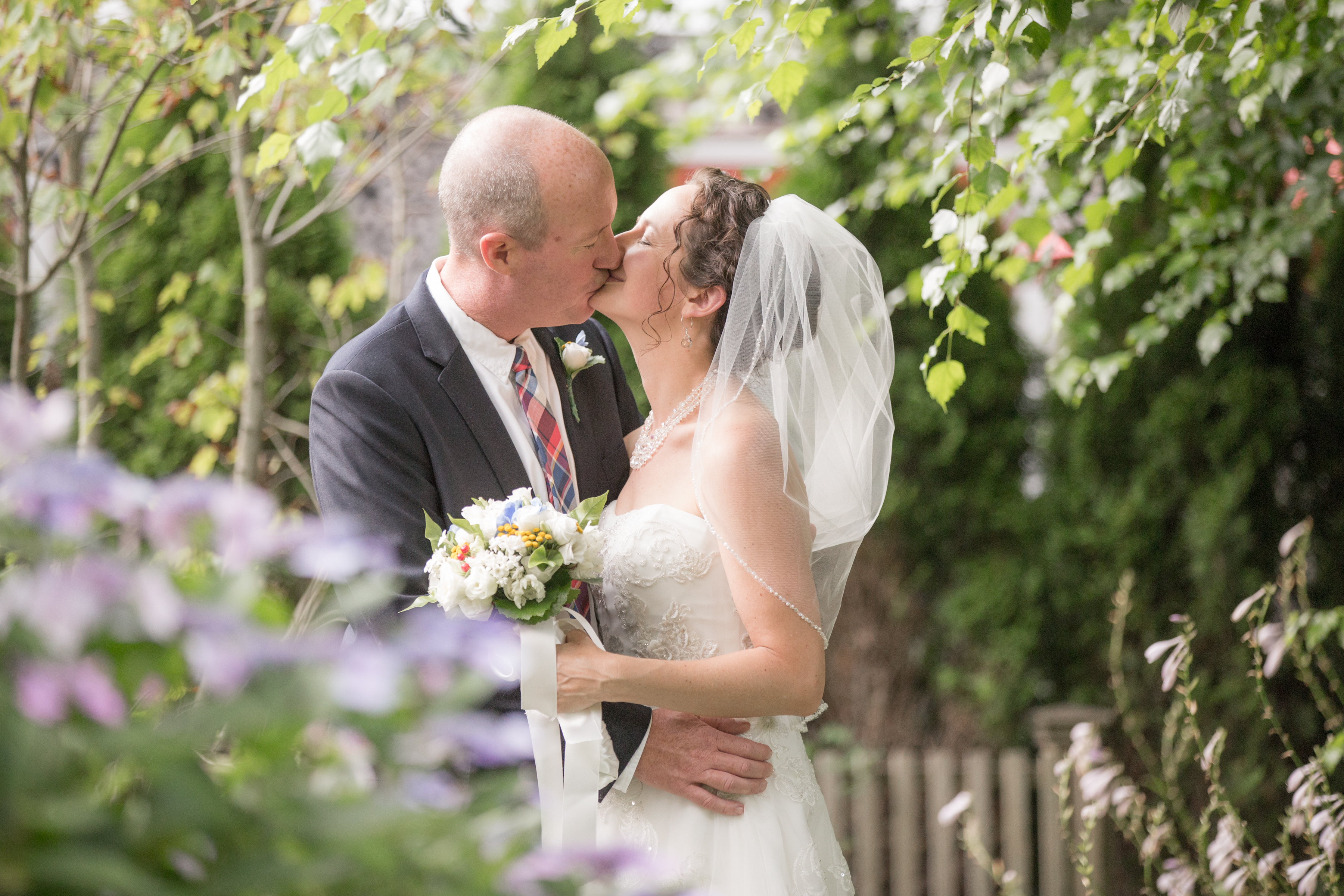 Kathryn & Rob – Married at The Greater Light on Nantucket
 – Rob & Kathryn –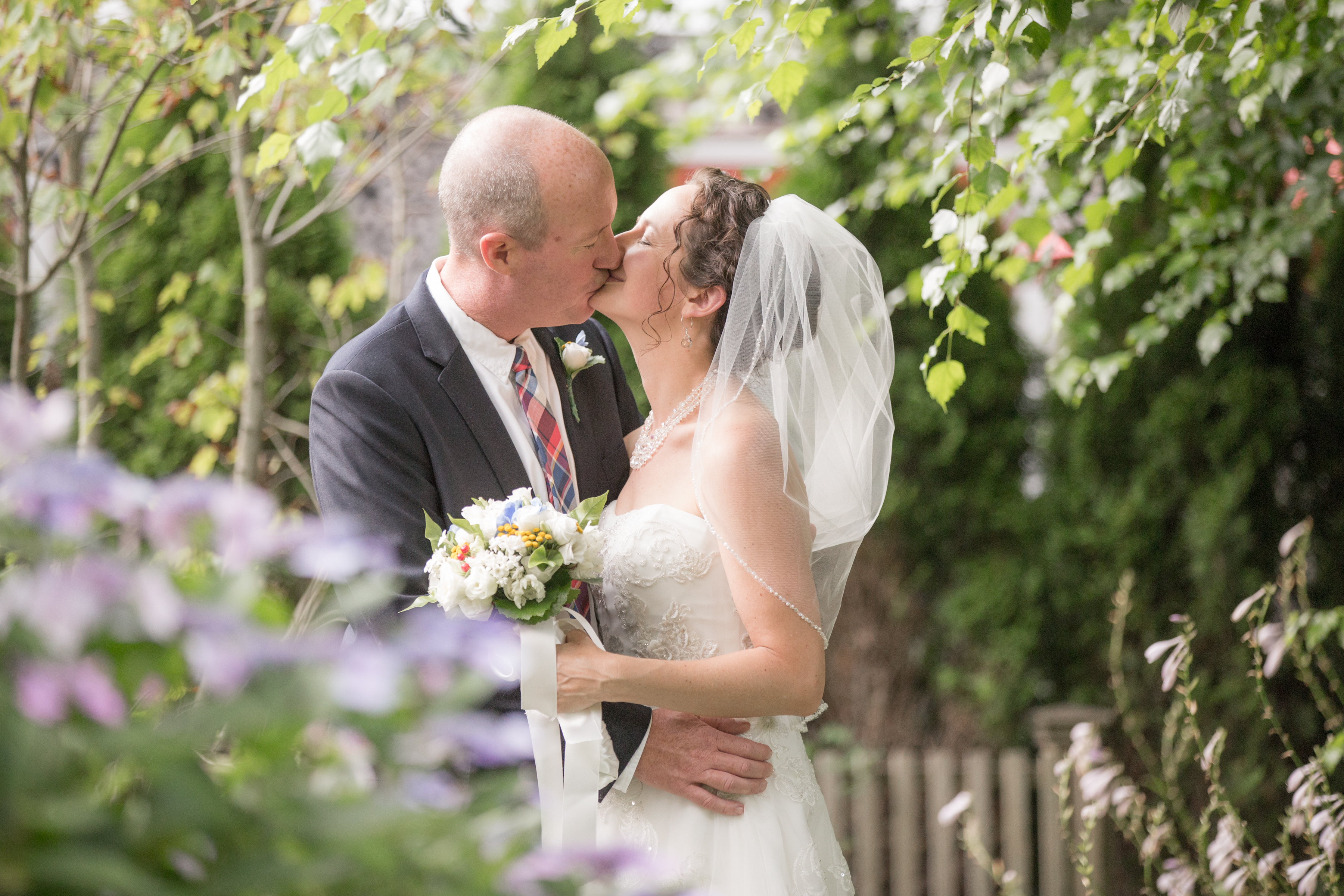 Kathryn and Rob were married at The Greater Light garden and celebrated with cocktails at The Gallery at Four India and a dinner at Company of the Cauldron. They were smiling all day and surrounded by an intimate group of family and friends. Their Nantucket wedding was a beautiful celebration of their love for each other and the life they have created here together. They are sweet, always laughing and they collect heart shaped rocks on the beach together. They are romantic and real and they are both teachers in our community. When I was in high school they were among our favorite teachers and It's clear nothing has changed. Right before Kathryn entered the garden to get married two of their students found their way to the Greater Light to say congrats. Then later during our photo session at the top of Main St. one of their favorite students rode by on her bike. She practically jumped off the bike while it was moving to hug them and say congrats. This island is special for so many reasons and seeing their day unfold with so many serendipitous moments really reminded me of how people like Rob and Kathryn make a positive difference in our community every day. They are Nantucketers who have an amazing love story.
How they met….."Rob and I met as new hires to Nantucket High School in 1998 and we were co-workers and friends for the first few years of our teaching careers on-island.  We appreciated each other as colleagues and as funny, sweet, kindhearted types, but our lives were spinning in their own orbits.  Fast forward 15 years and we came together under very different circumstances, both ready to say yes to a joyful and fun life together.  This is where our new story begins, with a beautiful wedding at Greater Light"
How they chose the Greater Light…."We're both teachers on-island and we knew that we wanted to begin our lives together with a celebration of our marriage that included and highlighted the best of our Nantucket experiences.  We love the island and its rich history so we wanted to include a beautiful NHA property; we appreciate the organization and the work they do to keep help the community vibrant and connected with its past.  Susan Beaumont was key to securing the Greater Light and really helpful in making this an easy process."
Being asked to photograph Kathryn & Rob's wedding was so very special for me. I first met them when I was in high school and I had them as teachers. Years later I reconnected with Kathryn over a lovely chat on the ferry and she told me that in addition to teaching she had attended photography school and was working as a professional wedding photographer while she was living off island for a few years. I immediately asked her if she would work with me on some of my bigger weddings and needless to say this was the beginning of a wonderful friendship.  When another photographer asks you to photograph their wedding it is such an honor. I was so pleased to photograph Kathryn and Rob. Their wedding was unique in every sense of the word. They planned their wedding in just a few short months and it perfect. Kathryn and Rob are so deeply rooted in the Nantucket Community and every detail of their wedding was decided upon with love and special reasons. Here are a few more words about how they chose their vendors….
"We LOVE the Company of the Cauldron and we couldn't imagine a more romantic location to break bread with our families for the first time together.  Andrea and All were incredible to work with in the process of planning the meal and the experience exceeded our expectations on every level.  Everyone proclaimed it to be the "best wedding dinner of all time!" and we agree wholeheartedly! We're big fans of youth music and art programs, so having the Cobbletones serenade us at the Gallery at Four India was a no-brainer! They were a big crowd pleaser!  It was special because some of the singers were past students of ours. Kathleen, owner of the Gallery, was helpful and accommodating and having that space for our cocktail hour was really special. We worked with Heidi at Parchment for all things paper because she's so easy to work with and has great ideas coupled with an aesthetic that we knew would help us tie together our event.  She was super helpful and enthusiastic about making everything beautiful. Claudia and Dylan, the owners of Ambrosia, were among the first to spot us together at the Farmer's Market last fall and we knew we wanted to include them in our special day.  The thank-you chocolates were a much talked-about item and loved by all.  We fell for The Gate House because we were received so warmly by the front desk staff when we went in to inquire.  The space was beautiful and it was a perfect location!  Room 31 was quite special and was a ideal space to get ready with the ladies!  Nice architecture and light for photographs. Rob has worked in the transportation industry out here since 1990 and we were glad to use the timely services of All-Point and Roger's taxi and Cranberry Transportation to help shuttle everyone between our venues.  They were courteous, prompt, and fun!"
I couldn't be happier for Kathryn and Rob! Wishing them a lifetime of happiness together!
Ceremony: Greater Light Garden, Nantucket Historical Association, Officiant: MJ Moher, Photographer: Katie Kaizer Photography, Cocktail Hour: Gallery at Four India, Entertainment: The Cobbletones, Invitations: Parchment, Thank You Chocolates: Ambrosia, Lodging: The Gate House, Transportation: All Point Taxi, Roger's Taxi and Cranberry Transportation, Wedding Dinner: Company of the Cauldron.
Enjoy! – Katie K.
'They collect heart shape rocks together on the beaches of Nantucket…'
https://katiekaizerphotography.com/wp-content/uploads/2013/08/kathrynrob_084_katiekaizerphotography.jpg
2400
3600
katiekaizerphoto
https://katiekaizerphotography.com/wp-content/uploads/2021/04/KatieKLogo-PinkGray-e1558936792898-300x100.png
katiekaizerphoto
2013-08-11 23:04:02
2017-06-12 21:15:05
Kathryn & Rob – Married at The Greater Light on Nantucket