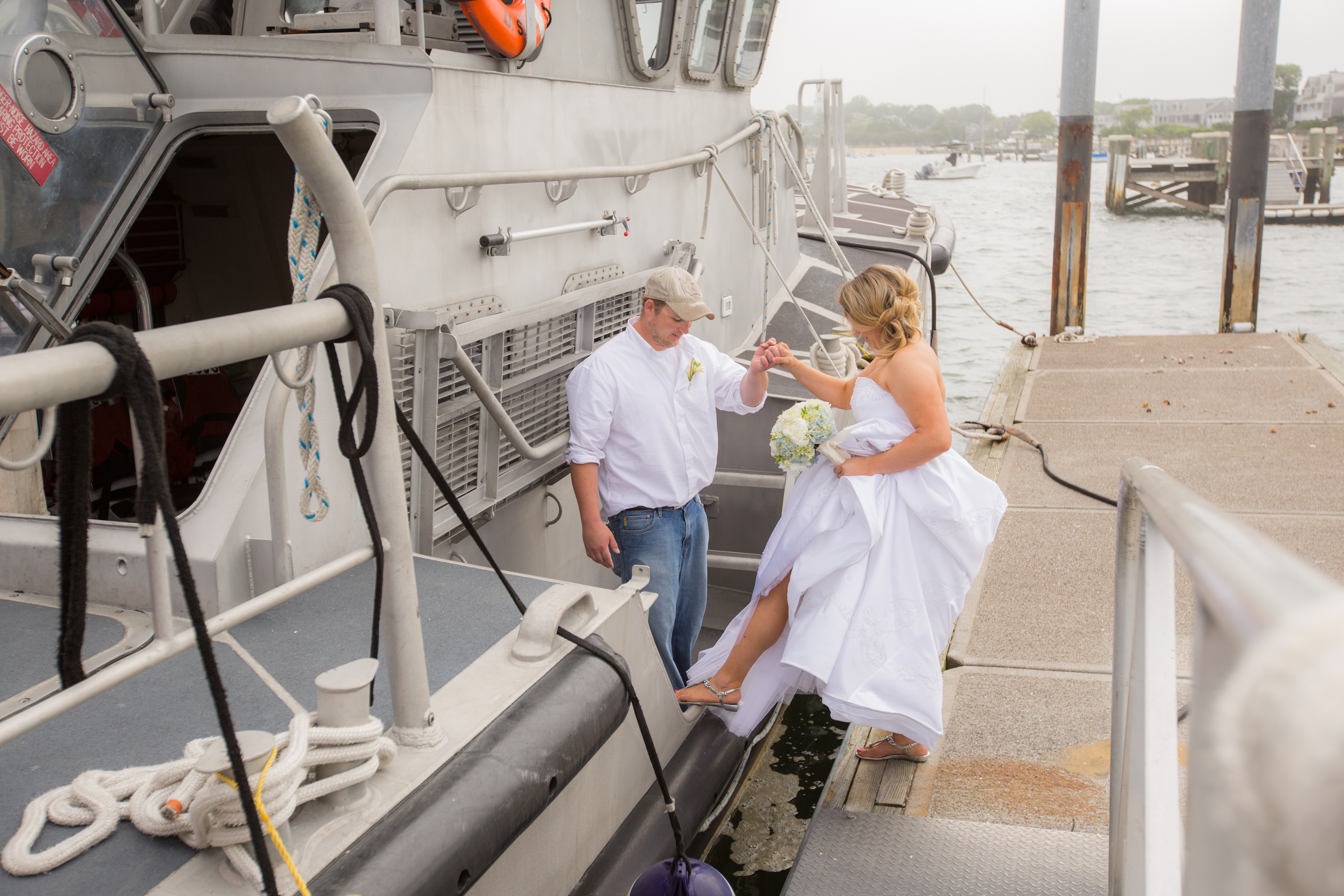 Jeff & Christy's Wedding at Brant Point Lighthouse – Holidays for Heroes 2013, Nantucket
– Jeff & Christy –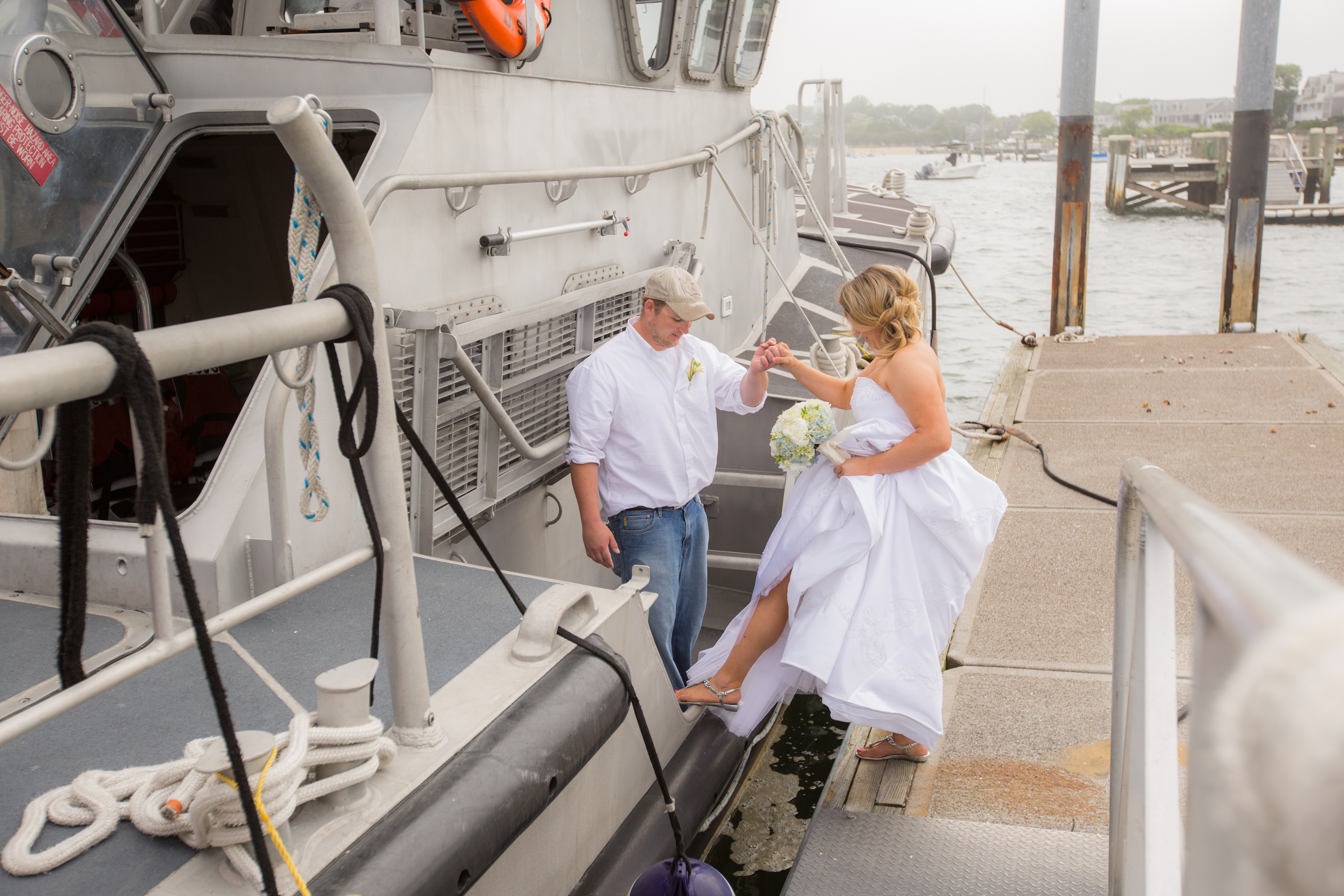 This is the story of Jeff & Christy and their dream wedding on Nantucket.
"It was an amazing day that was better than my wildest dreams could have imagined."
Holidays for Heroes is a homegrown Nantucket organization started by Tom McCann. It is a local organization with national goals. Holidays for Heroes is encouraging other communities like Nantucket to join them in their mission and would like to help them create similar organizations.
"Thousands of men and women have given their all in defense of the liberties America holds so dear.  At Holidays for Heroes, it is our mission and our responsibility to honor their sacrifice in thought, to reciprocate their commitment to country in deed, and to participate in a fellowship with our soldiers that proclaims we are proudly American."
Due to events that happened during Jeff's tour in Iraq for the U.S. Army this couple never had the wedding they had planned. When Tom McCann heard about Christy & Jeff's story he had a vision. This sweet couple who has made many sacrifices for our country would have the dream wedding they never had.  Tom immediately called on members of the Nantucket Wedding Community to donate their time and talents to make this possible. When he called me I was thankful to become part of this amazing day. They are such a sweet couple and as I got to know them throughout the day they shared their story with me. I teared up many times realizing that these two had faced more challenges in the past few years than many people face in their lifetimes. They shared stories of Jeff's time in Iraq and told me about losing their son due to a premature birth. Jeff wears his Carolina baseball hat every day as was wearing it the day they lost their son and he remembers the son reaching up to touch the hat while he was holding him. This couple is dedicated to sharing their story with others and they are an inspiration. These aren't the stories you usually read on a wedding blog but they are important and these are the real life stories that happen every day.
I arrived at The Brant Point Lighthouse to meet up with the Holidays for Heroes group and it was a Classic Foggy Nantucket Day. The wedding was, in part, a surprise to Jeff as he thought he was at Brant Point Lighthouse for a tour and then looked up to see his bride walking down the beach in a gorgeous white dress. The couple was legally married a while ago but this was the wedding they deserved. After the ceremony we rode aboard the Coast Guard Cutter and Jeff drove the boat. From there we did some photos at different town locations including the old Nantucket Pharmacy. They loved that! We eventually made our way to The Galley where they were treated to a lovely dinner – a perfect ending to their fabulous day!
I asked Christy about how they first learned of Holidays for Heroes…."Jeff and I heard about Holidays for Heroes from Mike Kuchinsky who is a secret service officer in DC. He is like a father to Jeff. When I met Tom McCann I told him the story of how Jeff and I got married 8 years ago and had a simple ceremony by our local JP.  Jeff deployed to Iraq 3 days later and our years of ups and downs started. When Tom realized that we never had a formal ceremony he organized everything for us."
Christy also shared more of their story about the past few years and how their day on Nantucket was better than they could have imagined…."Jeff joined the army in 2004. He became an infantryman which put in directly on the front lines in Iraq. He was injured during his last 30 days in Iraq in 2006 and then again during his first 30 day in 2007. He was medivaced to Walter Reed in June of 2007. We remained there until September of 2008. Our son was born on Nov. 3rd of 2008 and passed away on the 6th. CateLyn was born on the 15th of September of 2009. Jeff was medically retired in May of 2011. The day on Nantucket was absolutely perfect. Jeff went on a fishing trip that morning while CateLyn and I went sailing on The Endeavor. After the cruise around the harbor I was taken to Darya's salon (which was a complete surprise) and had my hair and makeup done. Maggie of Nantucket Island Events picked me up and took me to the church where I got dressed and then we headed out to the Brant Point Lighthouse. The ceremony was so much better than anything I could have ever imagined. The ride on the coast guard cutter was fantastic. It was nice to have the military aspect included especially for Jeff. Dinner at Galley Beach was amazing and watching the sunset with Jeff made up for all years we had waited for that moment. All in all it was an amazing day that was better than my wildest dreams could have imagined."
https://katiekaizerphotography.com/wp-content/uploads/2013/08/christyjeff_030_katiekaizerphotography.jpg
2400
3600
katiekaizerphoto
https://katiekaizerphotography.com/wp-content/uploads/2021/04/KatieKLogo-PinkGray-e1558936792898-300x100.png
katiekaizerphoto
2013-08-16 15:15:42
2017-06-12 21:14:37
Jeff & Christy's Wedding at Brant Point Lighthouse – Holidays for Heroes 2013, Nantucket