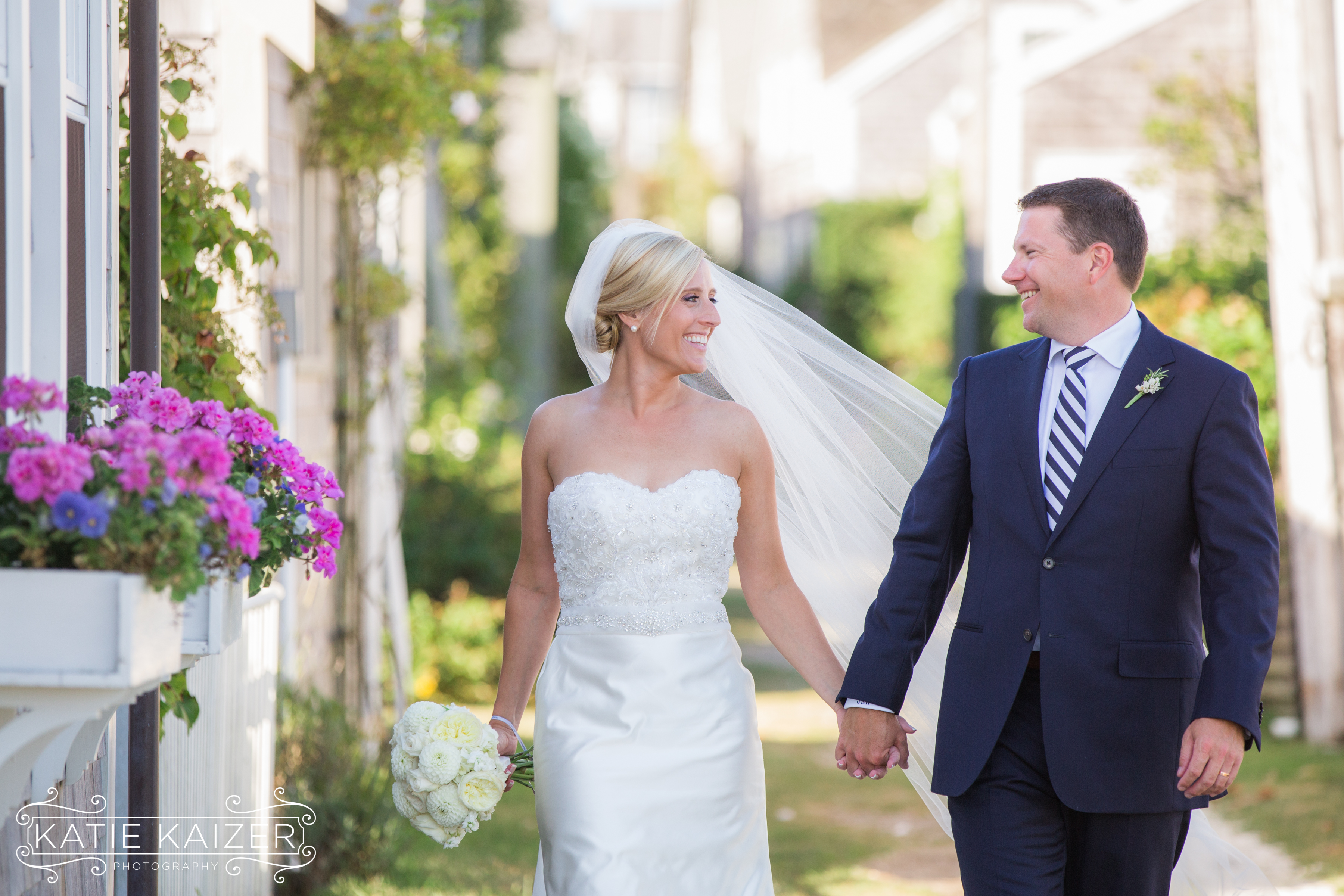 Erin & Jeff's Intimate Nantucket Wedding – The First Congregational Church and Private Residence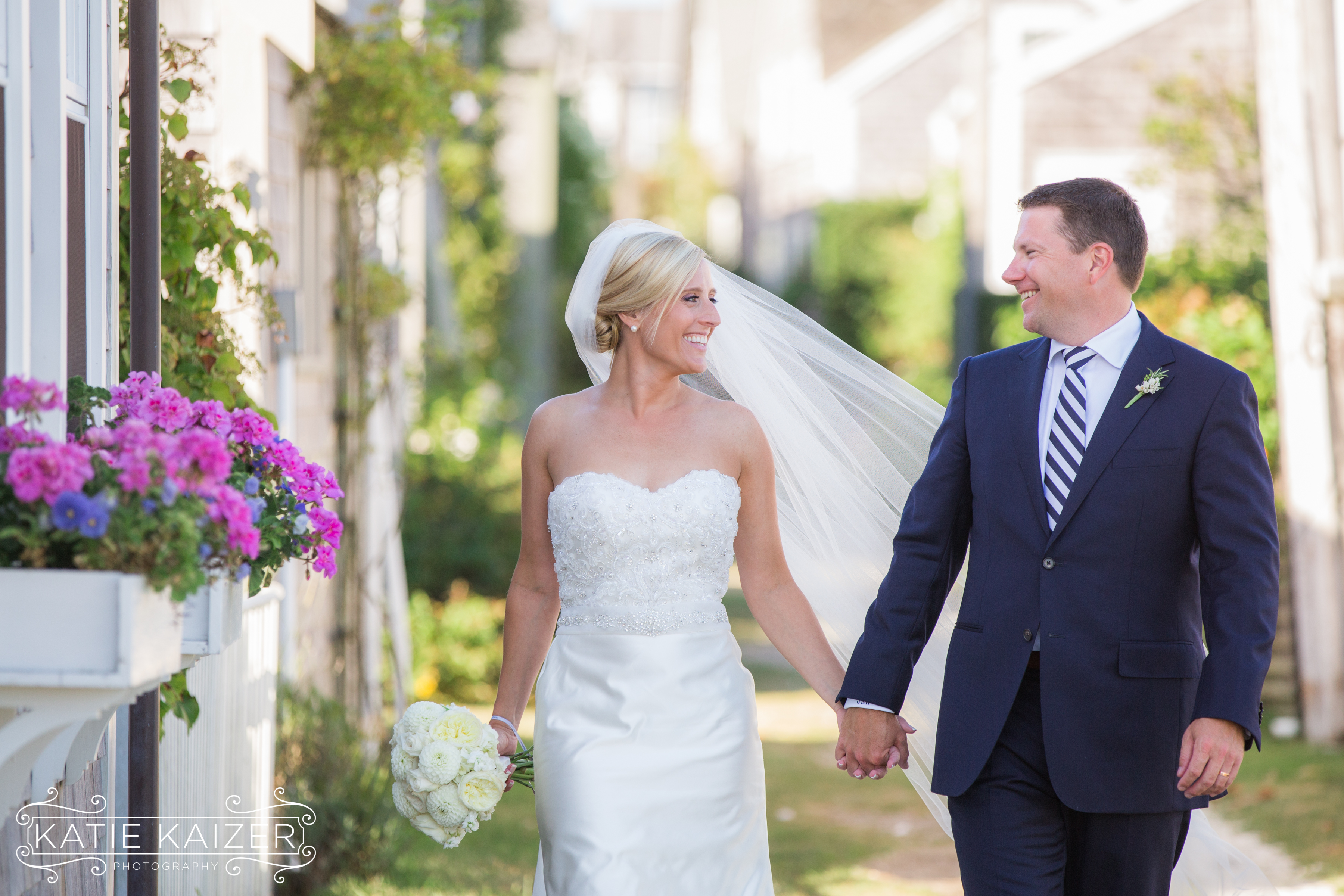 Erin and Jeff had an intimate Nantucket Wedding on Wednesday September 10th 2014. They were surrounded by their immediate family who joined them here for a lovely week on Nantucket to celebrate with them. When I first Met Erin and Jeff at Cru to talk about their wedding plans I knew we'd have a great week for their wedding. The couple seemed to truly care about spending time with each other, their families, having great food and having it all photographed. We had a lovely Family Portrait Session the evening before their wedding and then they carried on to The Galley for their Rehearsal Dinner. I spent their wedding day with them and it was an honor to be their photographer. They had beautiful details, florals by Soiree Floral and of course an amazing spread by The Nantucket Catering Company. As we all spent the day together I loved hearing more about how these two met….
"A mutual friend had mentioned to each of us individually that she had "someone that she'd like us to meet". She had mentioned this in passing once or twice, about two years prior to us actually meeting. A number of things fell into place for each of us, both personally and professionally, and our friend and serendipity brought us to meet in person on April 2, 2013. We were engaged in Stowe, VT on December 20, 2013."
The idea of a mid-week wedding is simply perfect. They had so much flexibility and it truly felt like we had the island all to ourselves. As we strolled through Sconset for more photos it was one of those perfect late summer days with a nice breeze, sunshine and blue skies. Erin tells us more about how they decided to do things their own way and why a small wedding can absolutely be the way to go. Their wedding week of activities and their rental truly fit what they wanted and seemed to highlight the reasons they love each other and Nantucket….
"Our first vacation away together was to Nantucket. We attended the Nantucket Wine festival. Both of us have visited Nantucket a number of times and have fallen in love with its beauty. Nantucket captures the unspoiled beauty of the New England Coast. It is magical and by far our most favorite vacation spots. National Geographic named Nantucket, MA as one of the top 10 islands in the world…we couldn't agree more."
And then they began to plan their dream wedding…."We planned what some might think to be an unconventional wedding. We decided to keep it very small and just include our parents, and our siblings and their significant others (a total of 10, including us). We wanted our families to spend a week getting to know each other, sharing family stories and enjoying Nantucket together. We wanted to truly treasure the special moments with each other and our parents and siblings and not be overwhelmed by a large wedding. It turned out our families had a lot in common and really enjoyed their time together. Having a small wedding gives you a tremendous amount of flexibility.We decided to turn our wedding day into a wedding week. We rented a large property in Pocomo and made a family vacation out of it. Everyone arrived on a Saturday which enabled us to have a few days prior to the wedding to vacation and relax. Food was an important part of the week. We had an amazing chef for the week to prepare gourmet breakfast, lunch and dinner each day. We spent time together hanging out in the pool at the house, going to some of Nantucket's gorgeous beaches including Surfside and Cisco, bike riding, an afternoon at Cisco Brewery, visiting Nantucket's historic landmarks including Sankaty Head lighthouse, laughing, talking and playing games. The guys in the family are avid fisherman and they brought their poles and spent time surfcasting during the week. Our house had an incredible widow's walk where we spent a number of nights watching the fantastic September sunsets over the ocean. Our wedding week was the week of the September Harvest Moon which we enjoyed on each of the clear nights. Our wedding day was on a Wednesday. Planning a mid-week wedding as opposed to a weekend was so incredibly easy. We had our pick of available vendors and times, which allowed us to plan the perfect day. The wedding ceremony was held at the First Congregational Church of Nantucket on September 10, 2014. Reverend Gary W. Klingsporn performed the ceremony. We felt very welcomed by the church. Reverend Klingsporn took the time to get to know us as a couple and tailored the wedding ceremony to really make it personal and special for the both of us. It wasn't even a question that we would have our siblings stand up for us at our wedding, (Jeff's sister Tracy was the maid of honor and Erin's twin brother, Michael was the best man). Our siblings have played such an important role in our lives and we thought it was only natural that they stand beside us as we said our vows. Both siblings prepared very special toasts to the bride and groom."
Their wedding day was very relaxing and it was so much fun to be with them for all of it! From getting ready with champagne toasts to the end of the evening with dancing on the lawn it was truly spectacular to capture it all. Erin recalled some of the most memorable parts of their Nantucket Wedding….
"There were a number of memorable parts of the day for us, but I would say first and foremost it would be the gorgeous weather. We woke up to a foggy morning, however, just as we started to get ready for the ceremony, the sun came out and we had the most gorgeous bright blue skies with a light Nantucket breeze. We also remember when we went to cut our cake after dinner we caught a glimpse of the gorgeous full September harvest moon that shone through the windows. Another highlight of our wedding experience was the food! Mark and Eithne Yelle from Nantucket Catering Company created a gourmet feast for us. We had an incredible assortment of passed hors d'eouvres featuring local island fare. Our wedding dinner consisted of a five course wedding dinner with wine pairings followed by a two tier, two flavor wedding cake by Jodi Levesque. The food was absolutely outstanding! Nothing was more exciting than driving on Nantucket's cobblestone Main Street in a white 1964 Austin Vanden Plas Princess Limousine. Everyone in town was waiving and shouting their congratulations. It was so much fun! As we reflect back on our wedding, we wouldn't change a thing. Everything was absolutely perfect. We truly enjoyed every element of the day and were able to sit back, relax and take it all in. The best part of the day was enjoying our family and each other on the special island of Nantucket."
I am so happy to have been Erin & Jeff's photographer and also to have made so many new friends. I look forward to seeing Erin, Jeff and their family again soon on the island:)
Transportation: Highland Drivers, Rehearsal Dinner: The Galley Beach Restaurant, Wedding Dinner Caterer: Nantucket Catering Company, Catering for the Wedding Week: Chef Michael Caffrey from Nantucket's On Island Chef's, Cake: Jodi's Cakes of Nantucket, Table Design & Rentals: Placesetters Inc, Floral Design: Soiree Floral, Photography: Katie Kaizer Photography, Hair: RJ Miller Salon, Makeup: YG Makeup, Wedding Dress: Martina Liana, Bridesmaid Dress: Amsale, Groom's Suit: David Morra of Marc Allen Fine Clothier, Ties: Brooks Brothers, Rings: John Powers of Arlene & Roberta, Ceremony: The First Congregational Church of Nantucket, Officiant: Reverend Gary W. Klingsporn, Reception: Private Residence at 34 Pocomo, Music: Jason Sullivan and Aidan Sherry, Jazz Guitar Duo
Enjoy! – Katie K.
https://katiekaizerphotography.com/wp-content/uploads/2014/09/nantucketwedding_067_katiekaizerphotography.jpg
2400
3600
katiekaizerphoto
https://katiekaizerphotography.com/wp-content/uploads/2021/04/KatieKLogo-PinkGray-e1558936792898-300x100.png
katiekaizerphoto
2014-09-24 15:37:56
2021-05-05 12:55:30
Erin & Jeff's Intimate Nantucket Wedding – The First Congregational Church and Private Residence