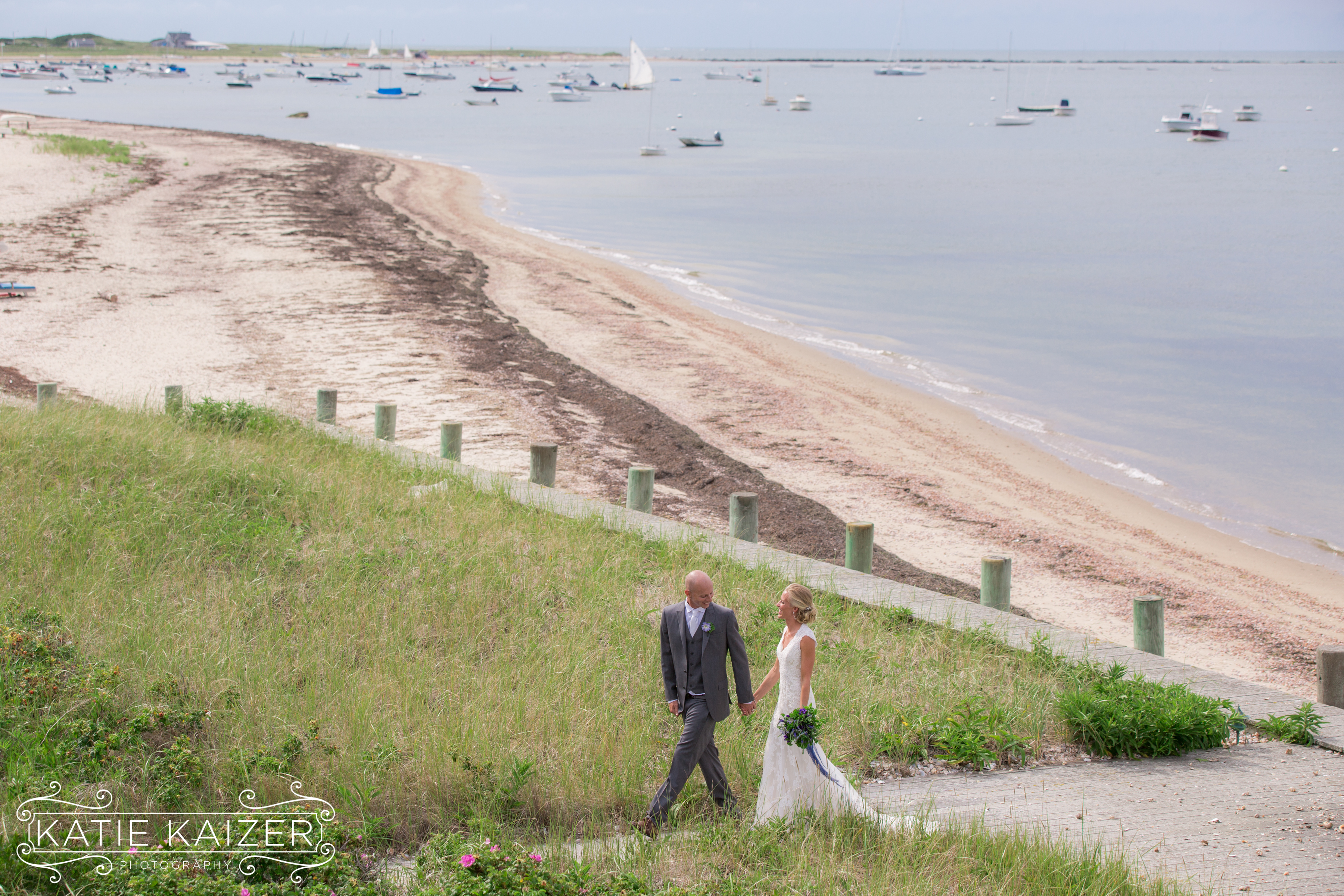 Caitlin & Mark's Summer Wedding on Nantucket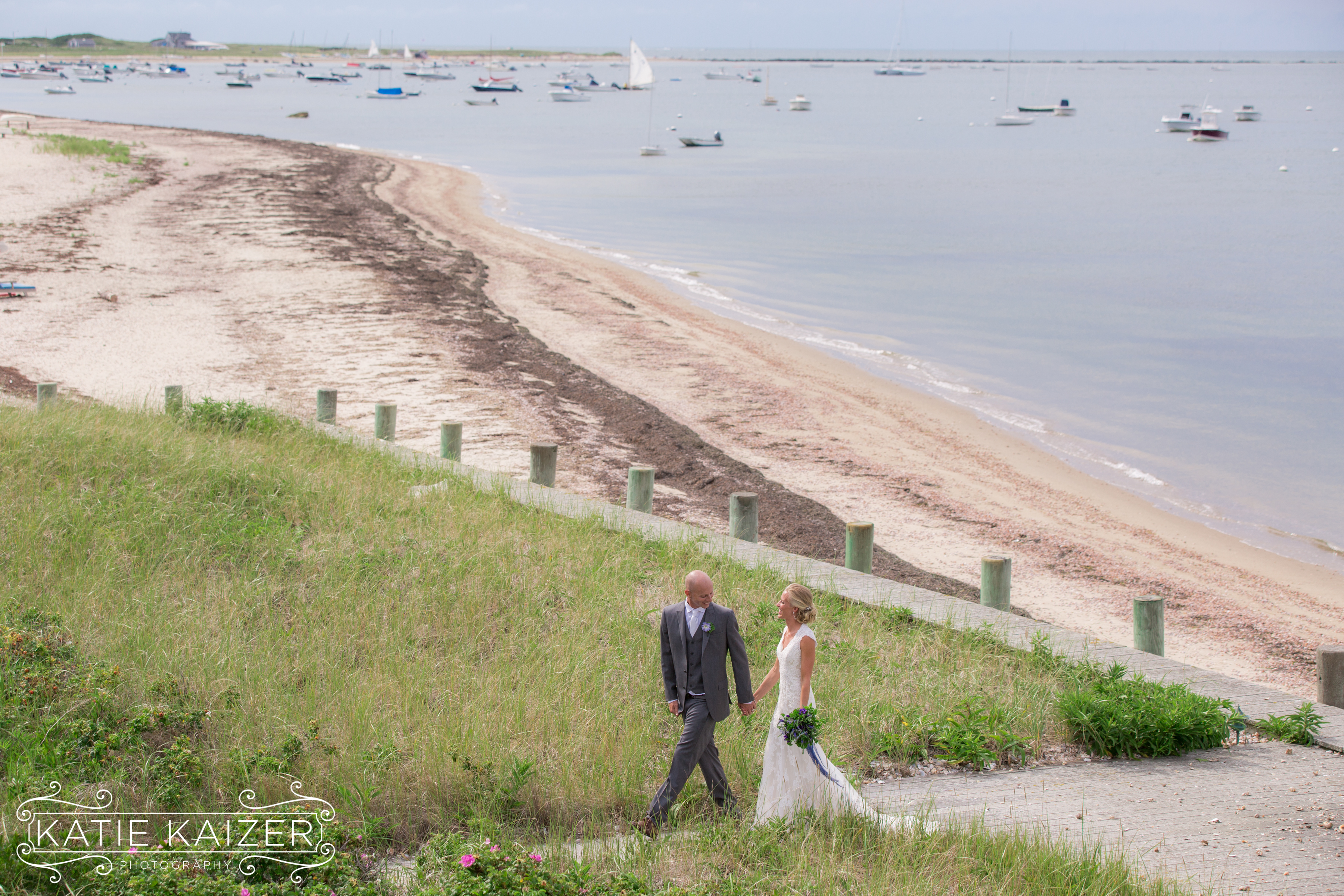 Caitlin and Mark were married July 26th 2014 on Nantucket, they had an absolutely amazing summer wedding here on the island. I had been looking forward to photographing this wedding for so many reasons and above all because Caitlin and Mark are good friends of ours. They are a kind, fun and easy going couple who absolutely knows how to have a good time. Their wedding day was so enjoyable as their friends and family gathered for a lovely ceremony on the lawn at 1 Easton St.  Our talented friend Betsey Brooks put together beautiful all local flower bouquets for the girls and pretty mason jars of wild flowers to line the isle. We kept it all local for one of our favorite local couples! Here's a little more about how these two met years back…..
"We were introduced by our good friend Dean! He said Mark was harassing him about his blonde 'nurse friend'. Mark's nickname for me for the first whole year was "nurse" despite the fact I am not a nurse, I'm an EMT. Ha ha ha it was sweet."
We all love Nantucket for countless reasons and I love hearing about how people end up here and how they decide to call it home….."I made nantucket my home almost 10 years ago and Mark has been running his business here for the past 11 years, but he was a summer kid since he was born.  It's the most beautiful place ever. There is no place we would rather be in the summer, and winter isn't all bad either! There is a nice sense of community here in the off season. This is where we met and fell in love so it was the only choice for our wedding! We felt really thankful to have a wedding here as everyone was so generous and helpful in making the wedding happen. Mark's clients Mr. & Mrs. Berry even offered us their beautiful lawn for the ceremony, it was perfect as it over looks the harbor and The Brant Point Lighthouse."
After their ceremony we walked over to The Brant Point Lighthouse for a few photos. Their guests and family walked around the corner to the reception as we took a cruise in Mark's beloved 1968 Scout. It was great to pull up and see everyone cheering from the reception as they newlyweds arrived…..
"For the reception we chose Mark's parent's house, 8 Harbor View Way, because it is our happy place! It was nice to have our reception in a place that so many people feel a connection to. That is where Mark and I had our first date! (He made me dinner). Doing most of the wedding planning ourselves was a labor of love. The Kaplan's put in countless hours preparing and we are so thankful. Mark's mom made 400 chocolate chip cookies! There was a lot of lawn care and flower planting and preparation, but it was worth it because now we have those memories and it's even more special to us now. I loved every part of the day! It was all amazing and over way too quickly. Our ceremony was the best part. It was so meaningful and perfect, set in the most amazing garden overlooking the lighthouse. It truly was the best location ever! As for the reception, from the opening toasts to the sparkler exit, there was so much love and laughter I can't even narrow down a favorite part. It was all so fun!"
Around twilight we strolled down to the docks for a few more photos. The sky was beautiful shades of blue and the harbor was peaceful. It was great to photograph them in a place that is so special for them and has so much meaning. From there they kicked it off with their first dance and then everyone joined them on the dance floor. DJ Phil Taylor  had everyone dancing the whole night and the evening ended with a huge sparkler send off in front of the house. On a personal note I want to wish them all the happiness in the world. It's always an honor to photograph friends of ours and it's also so much fun! Seeing everyone on the dance floor until the very last song we knew this would be a wedding to remember!! It was a really fantastic night and I look forward to more Sunday fun days on Coatue when we all reminisce about Caitlin and Mark's amazing summer wedding!! Congratulations to them!!
Special thanks to Cary Tozer for joining me on this wedding and capturing so many wonderful moments!!
Dress: Maggie Sottero,  Shoes: Betsey Johnson,  Hair & Makeup: Darya Salon & Spa, Ceremony: Private Residence at 1 Easton St., Reception: 'Old Glory' Mark's Parent's House at Children's Beach, Officiant: Chrissy Iller, Flowers: Betsey Brooks Floral Design, Photographer: Katie Kaizer Photography, 2nd Photographer: Cary Tozer, DJ – Phil Taylor, Bridesmaid Dresses: Jim Hjelm,  Catering: The Nantucket Catering Company, Tent: Nantucket Party Rentals
Enjoy – Katie K.
https://katiekaizerphotography.com/wp-content/uploads/2014/08/caitlinmark_048_katiekaizerphotography1.jpg
2400
3600
katiekaizerphoto
https://katiekaizerphotography.com/wp-content/uploads/2021/04/KatieKLogo-PinkGray-e1558936792898-300x100.png
katiekaizerphoto
2014-08-08 10:27:18
2021-05-05 13:10:06
Caitlin & Mark's Summer Wedding on Nantucket