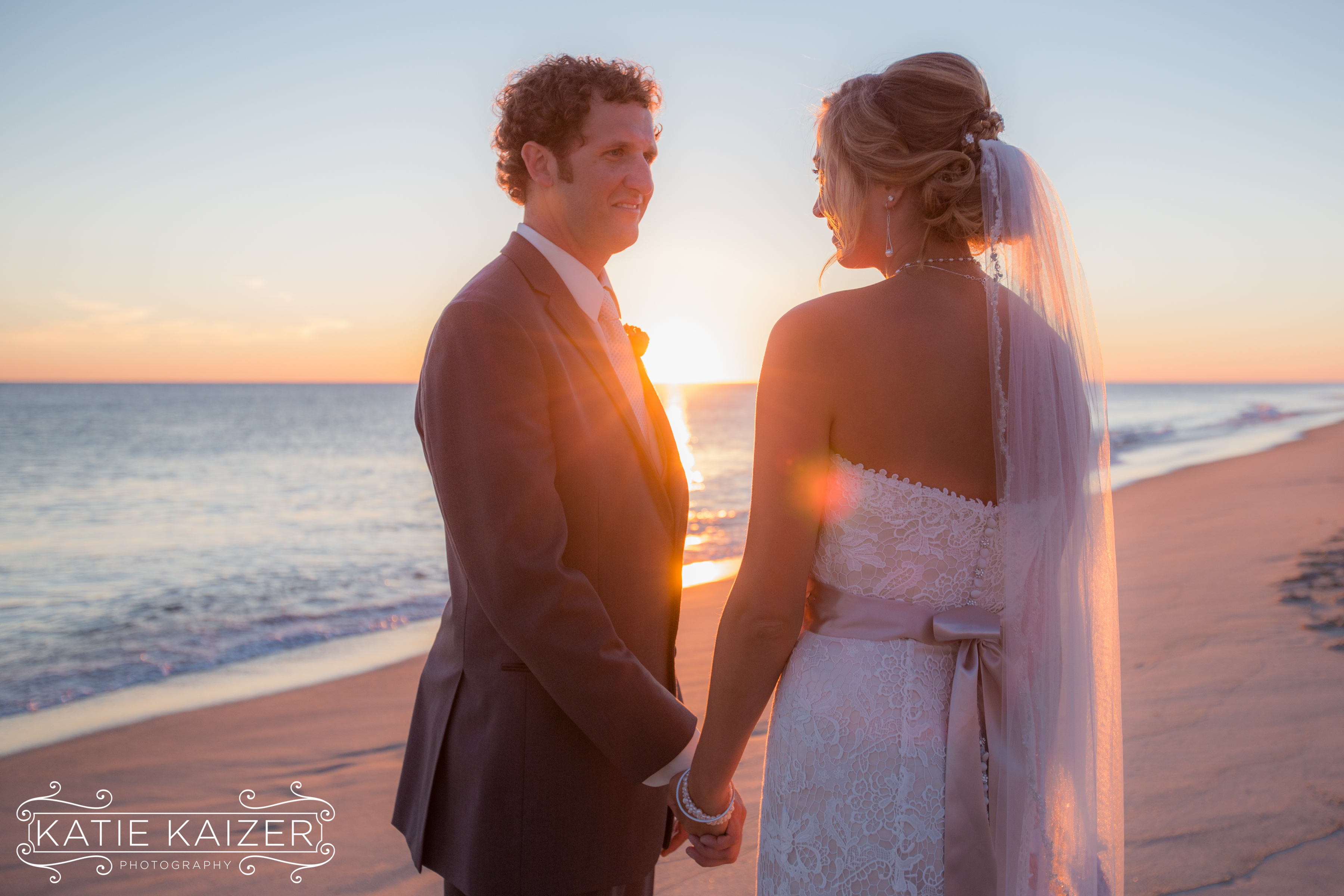 Aly & Tyler Married in Madaket – Nantucket Island
– Tyler & Aly –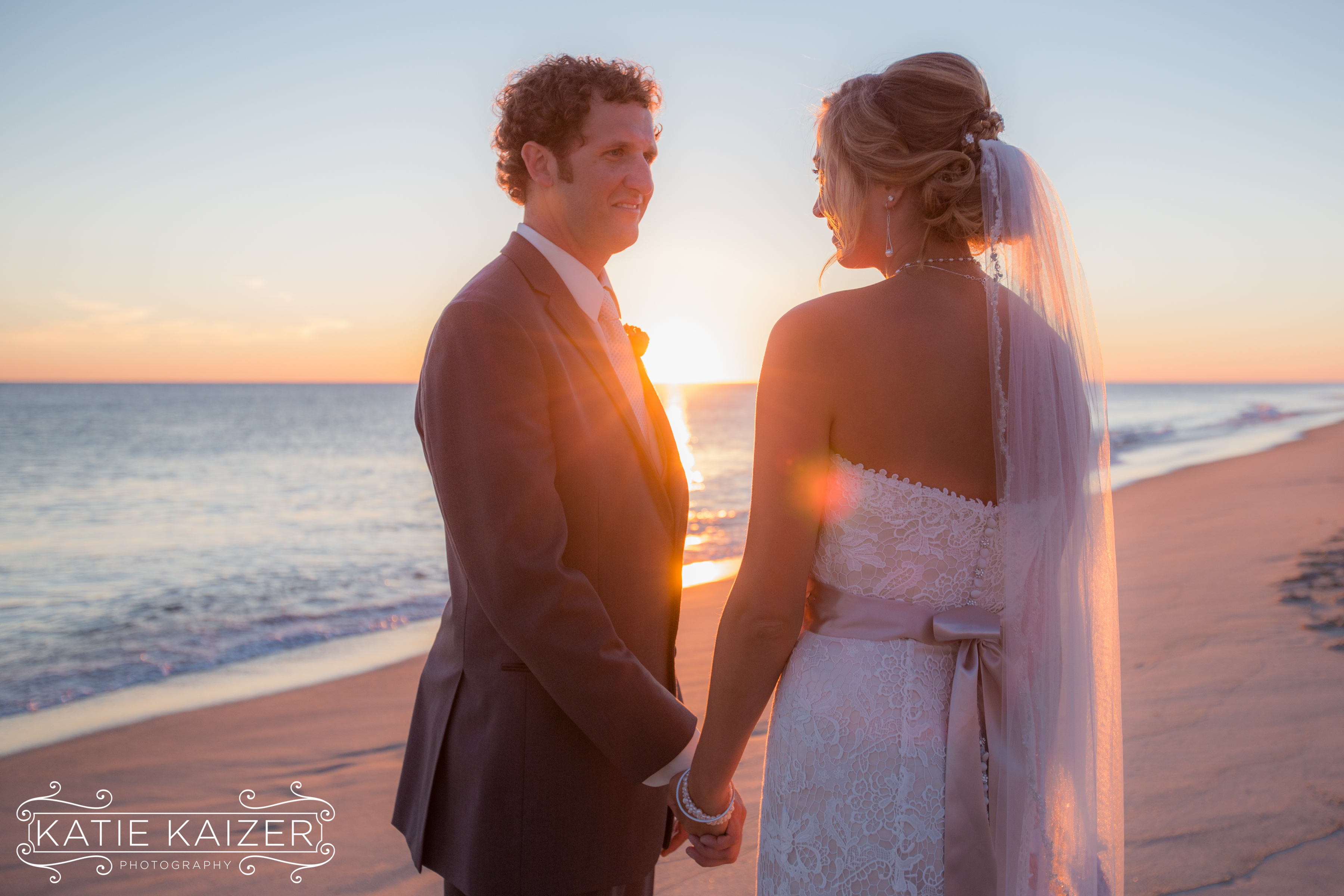 Aly and Tyler were married Sept. 28th at a private residence in Madaket.  Aly and Tyler are a special part of the Nantucket Community. They are charismatic, fun and the ultimate team.  Everything about this wedding was original and reflected their personalities. They love being on the water whether they are surfing, boating or other adventures.  Aly arrived to the ceremony on a boat driven by Tyler's father Hal. Everyone stood awaiting her arrival and she looked stunning as she walked up the dock to the ceremony. Tyler's Brother Sam Herrick was  their officiant and Best man. Later he delivered what we have deemed one of the greatest Best Man Speeches of all time. He had the entire room bursting out in laughter and standing at seven plus feet tall he has quite the presence.
Aly and Tyler love Nantucket and they have made it their home year round. I was over joyed when they told me they would be married in Madaket, one of the most romantic places on the island, known for the amazing sunsets and also the 'old Nantucket' feel.  After the Ceremony we took photos on the docks, the Madaket Beach and also on the infamous Millie's Bridge in Madaket. These places are iconic Nantucket locations and now they are also part of Aly & Tyler's wedding story. While taking photos everyone watched the sun dip below the horizon creating amazing light and beautiful skies.
Here's a little more about how these two lovely people got to their wedding day…
Tyler always knew that Madaket Beach had always held a special place in Aly's heart as she had spent summers there with her family. He chose this beach as the spot for a sunset proposal on her 25th birthday. Without waiting for her to say "yes" he slipped a family ring on her finger, the answer was blatently obvious.
After getting engaged in Madaket they knew they wanted to get married there.  Aly described why this was the perfect place for them…. "I had always dreamed of a backyard wedding and Tyler wanted to get married on a beach. We were offered the Charney's house to use for the wedding and it was the perfect combination. The admiralty club was an obvious choice for the reception because it was so close and brad Flemming offered to sponsor us."
I've known Tyler and his family my whole life and he has been good friends with my brother for as long as I can remember. When I met Aly I also felt like I had known her forever.  Much to my surprise I learned during the speech by the Co-Maids of Honor, Leah & Kelsey Cabral, they had met at one of my Brother's notorious birthday parties  on the beach one August. I asked Aly more about their story…. "Tyler was born and raised on Nantucket Island while Aly grew up in Mattapoisett, Massachusetts. The couple was first introduced by Kelsey and Leah Cabral in August of 2008, during one of Aly's many summers spent on the beautiful island. They first met at one of PJ Kaizer's famous birthday parties on the beach where Aly convinced Tyler to join her for a drink dowtown later that night.  Although they stayed in touch throughout the next fall, winter, and spring, it was not until June of the following year that Tyler made the relationship official by asking Aly to be his girlfriend in the small kitchen of his Tom Nevers http://www.papsociety.org/xanax-alprazolam-1-mg/ rental.  After dating for a while tyler claims that Aly passed the ultimate test after traveling with him to New Zealand for 3 months in 2011, where they camped and lived out of "Silver Fox", their 1986 Toyota Hiace van. "
The wedding day was full of love and laughter. When they told me about their wedding plans I knew it was going to be extra special as they brought in lots of their good friends to make the wedding what they wanted. They made their wedding unique showing everyone their version of a Nantucket Wedding. Jonas Baker and his team catered the event, another good friend Claire Winship did the flowers with her aunt Kendra Lockley of Simply With Style. Everything had a personal touch. Jamie's Junk Show is one of their favorite bands and they traveled down from Vermont.  Scott Capizzo and Raymond Colon of Surfside Production did the sound and DJ-ing. Aly and Tyler are good friends of mine and when they asked me to be their photographer I was honored. Through out their wedding day I couldn't help but think that this was truly what our Nantucket community is all about… friends and family coming together in a place they love to celebrate the marriage of two sweet people who share special ties to Nantucket.
Having the combination of a live band and DJ was perfect. The dancefloor was full the entire night as everyone danced the night away. This wedding was a wonderful mix of Nantucket locals and also friends and family who traveled in for the wedding. Aly and Tyler are going to have an amazing life together and I look forward to hearing about their adventures in the future!
Congratulations Tyler & Aly!
Special Thanks to Scott Achs for coming down from New Hampshire to photograph this wedding with me!
Ceremony: Private Home in Madaket, Reception: Madaket Admiralty Club, Catering: Jonas Baker of Slip 14 & Purple Sage Catering, Officiant: Sam Herrick,  Flowers: Kendra Lockley & Claire Winship of Simply With Style, Hari & Makeup: Glitz Glam Bridal, Tuxedos: Vera Wang Black Collection, Bridesmaids Dresses: Alfred Angelo at Alexandra's Bridal Boutique, Bridal Gown: Justin Alexander at Alexandra's Bridal Boutique, Photographer: Katie Kaizer Photography, Band: Jamie's Junk Show from VT, Tents/Rentals: Nantucket Party Rentals, DJ, Sound & Videography: Scott Capizzo & Raymond Colon of Surfside Production, Cake: Pam Goddard of A Piece Of Cake 508-228-6184, Raw Bar: PJ Kaizer of Isle Have Another 508-560-8625, Photobooth Rental: Dan Gault 774-236-9031.
https://katiekaizerphotography.com/wp-content/uploads/2013/10/0971.jpg
2400
3600
katiekaizerphoto
https://katiekaizerphotography.com/wp-content/uploads/2021/04/KatieKLogo-PinkGray-e1558936792898-300x100.png
katiekaizerphoto
2013-10-16 11:57:06
2017-06-14 09:31:49
Aly & Tyler Married in Madaket – Nantucket Island